01.12.2019 | Research | Ausgabe 1/2019 Open Access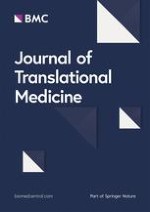 Identification of novel pathogenic MSH2 mutation and new DNA repair genes variants: investigation of a Tunisian Lynch syndrome family with discordant twins
Zeitschrift:
Autoren:

Amira Jaballah-Gabteni, Haifa Tounsi, Maria Kabbage, Yosr Hamdi, Sahar Elouej, Ines Ben Ayed, Mouna Medhioub, Moufida Mahmoudi, Hamza Dallali, Hamza Yaiche, Nadia Ben Jemii, Afifa Maaloul, Najla Mezghani, Sonia Abdelhak, Lamine Hamzaoui, Mousaddak Azzouz, Samir Boubaker
Wichtige Hinweise
Electronic supplementary material
Publisher's Note
Springer Nature remains neutral with regard to jurisdictional claims in published maps and institutional affiliations.
Abstract
Background
Lynch syndrome (LS) is a highly penetrant inherited cancer predisposition syndrome, characterized by autosomal dominant inheritance and germline mutations in DNA mismatch repair genes. Despite several genetic variations that have been identified in various populations, the penetrance is highly variable and the reasons for this have not been fully elucidated. This study investigates whether, besides pathogenic mutations, environment and low penetrance genetic risk factors may result in phenotype modification in a Tunisian LS family.
Patients and methods
A Tunisian family with strong colorectal cancer (CRC) history that fulfill the Amsterdam I criteria for the diagnosis of Lynch syndrome was proposed for oncogenetic counseling. The index case was a man, diagnosed at the age of 33 years with CRC. He has a monozygotic twin diagnosed at the age of 35 years with crohn disease. Forty-seven years-old was the onset age of his paternal uncle withCRC. An immunohistochemical (IHC) labeling for the four proteins (MLH1, MSH2, MSH6 and PMS2) of the MisMatchRepair (MMR) system was performed for the index case. A targeted sequencing of
MSH2
,
MLH1
and a panel of 85 DNA repair genes was performed for the index case and for his unaffected father.
Results
The IHC results showed a loss of MSH2 but not MLH1, MSH6 and PMS2 proteins expression. Genomic DNA screening, by targeted DNA repair genes sequencing, revealed an
MSH2
pathogenic mutation (c.1552C>T; p.Q518X), confirmed by Sanger sequencing. This mutation was suspected to be a causal mutation associated to the loss of MSH2 expression and it was found in first and second degree relatives. The index case has smoking and alcohol consumption habits. Moreover, he harbors extensive genetic variations in other DNA-repair genes not shared with his unaffected father.
Conclusion
In our investigated Tunisian family, we confirmed the LS by IHC, molecular and in silico investigations. We identified a novel pathogenic mutation described for the first time in Tunisia. These results come enriching the previously reported pathogenic mutations in LS families. Our study brings new arguments to the interpretation of MMR expression pattern and highlights new risk modifiers genes eventually implicated in CRC. Twins discordance reported in this work underscore that disease penetrance could be influenced by both genetic background and environmental factors.