05.06.2019 | Original Article | Ausgabe 8/2019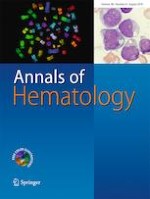 Identification of predictive factors for overall survival at baseline and during azacitidine treatment in high-risk myelodysplastic syndrome patients treated in the clinical practice
Zeitschrift:
Autoren:

Emilia Scalzulli, Matteo Molica, Danilo Alunni Fegatelli, Gioia Colafigli, Lorenzo Rizzo, Marco Mancini, Fabio Efficace, Roberto Latagliata, Robin Foà, Massimo Breccia
Wichtige Hinweise
Electronic supplementary material
Publisher's note
Springer Nature remains neutral with regard to jurisdictional claims in published maps and institutional affiliations.
Abstract
The outcome of high-risk myelodysplastic syndrome (MDS) patients treated with 5-azacitidine (5-AZA) in the real-life setting remains largely unknown. We evaluated 110 MDS patients (IPSS intermediate 2/high) treated outside of clinical trials at a single institution between September 2003 and January 2017. Median duration of therapy was 9.5 cycles. The overall survival (OS) of the whole cohort was 66.1% at 1 year and 38.3% at 2 years. No differences in terms of OS were observed with regard to gender (
p =
0.622) and age at baseline (< 65 years, 65–75, and > 75 years,
p
 = 0.075). According to the IPSS-R, the very high-risk group had an inferior 2-year OS (17%) compared with intermediate-group patients (64%,
p
 < 0.001). Transfusion independency at baseline was identified as a favorable prognostic factor on 1-year (66.8%) and 2-year OS (43.4%) (
p
 < 0.001). After four cycles, the persistence of bone marrow blasts > 10% identified patients with a worse outcome, with a 2-year OS of 9.4% (
p =
0.002). The occurrence of an infection during the first four cycles impacted on the 2-year OS (31.6% vs 58.3% in patients without infections,
p
 = 0.032). Patients receiving at least 24 cycles of the drug have a 5-year OS of 38.2%. This analysis allowed to identify features at baseline or during treatment with 5-AZA associated with a different 2-year OS.