01.12.2017 | Short report | Ausgabe 1/2017 Open Access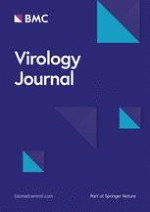 Identification of Two novel reassortant avian influenza a (H5N6) viruses in whooper swans in Korea, 2016
Zeitschrift:
Abbreviations
HPAIVs
Highly Pathogenic Avian Influenza Viruses
PA
Polymerase Acidic protein
PB1
Polymerase Basic 1 protein
PB2
Polymerase Basic 2 protein
RT-PCR
Reverse Transcriptase-Polymerase Chain Reaction
Short report
In conclusion, we have identified the two novel HPAIV H5N6 strains from three whooper swans in Korea. Phylogenetic and genetic analyses have shown that the two strains resulted from reassortment of the clade 2.3.4.4 H5N6 viruses that circulated in Guangdong, and they are distinguishable from HPAIVs that caused previous poultry and wild bird outbreaks in Korea. Increased understanding of clade 2.3.4.4 H5N6 virus transmission and pathogenesis in wild birds would serve to increase knowledge of the risk these viruses present to wildlife, domestic animals, and humans. Furthermore, as the H5N6 HPAIVs are potentially transmissible to poultry and humans, continuous monitoring of AIVs among wild birds is warranted.
Acknowledgements
We thank the National Institute of Environmental Research (NIER) and the Ministry of Environment for their efforts in the control of HPAIVs in wild birds. We thank Dr. David Blehert for helpful comments on this manuscript. Mention of products does not indicate endorsement by the US Government.
Availability of data and materials
Authors' contributions
JJ conducted virus identification, genome sequencing, phylogenetic analysis and drafted the manuscript. CW, IA, YK, KL, SDJ, KS and SL participated in virus isolation. JKO, SJW, YK, SJ participated in sample collection. JJ, HI, JS and WJ designed the wild bird surveillance, conducted data analysis and provided final approval of the manuscript. All authors read and approved the final manuscript.
Competing interests
The authors declare that they have no competing interests.
Consent for publication
Not applicable.
Ethics approval and consent to participate
All experiments including chicken infection were approved by the Institutional Animal Care and Use Committees (IACUC) of National Institute of Environmental Research (NIER), Inchoen, Korea (IACUC Number: NIER-16-4).
Financial support
This work was supported by National Institute of Environmental Research (NIER), NIER-2016-01-01-033. The funder had no role in the study design, data collection and interpretation, or the decision to submit the work for publication.
Publisher's Note
Springer Nature remains neutral with regard to jurisdictional claims in published maps and institutional affiliations.
Open Access
This article is distributed under the terms of the Creative Commons Attribution 4.0 International License (
http://​creativecommons.​org/​licenses/​by/​4.​0/​
), which permits unrestricted use, distribution, and reproduction in any medium, provided you give appropriate credit to the original author(s) and the source, provide a link to the Creative Commons license, and indicate if changes were made. The Creative Commons Public Domain Dedication waiver (
http://​creativecommons.​org/​publicdomain/​zero/​1.​0/​
) applies to the data made available in this article, unless otherwise stated.