01.12.2016 | Research | Ausgabe 1/2016 Open Access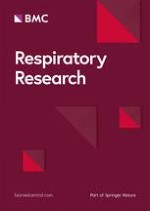 Identification of vitamin D sensitive pathways during lung development
Zeitschrift:
Autoren:

Ling Chen, Richard Wilson, Ellen Bennett, Graeme R. Zosky
Wichtige Hinweise
Competing interests
The authors declare that they have no competing interests.
Authors' contributions
LC, EB, and RW carried out the experiments of the study. LC and RW analysed the data and interpreted the results. LC and GRZ conceived of the study, and participated in its design. LC coordinated and helped to draft the manuscript. All authors read and approved the final manuscript.
Abstract
Background
We have previously shown that vitamin D deficiency has a detrimental impact on lung development. In this study, we aimed to identify the mechanisms linking vitamin D with lung development using a mouse model of dietary manipulation.
Methods
Female offspring were euthanized at different time-points; embryonic day (E)14.5, E17.5 or postnatal day (P)7. Lung tissue was collected for mass spectrometry-based proteomic analysis. Label-free quantitation was used to identify the differentially expressed proteins and ELISA confirmed the expression of selected proteins. Lungs from separate groups of mice were fixed and processed for stereological assessment of lung structure.
Results
No differences in protein expression between vitamin D deficient and replete mice were detected at E14.5 and E17.5, whereas 66 proteins were differentially expressed in P7 lungs. The expression of pulmonary surfactant-associated protein B (SP-B) and peroxiredoxin 5 (PRDX5) were reduced in P7 lungs of vitamin D deficient mice, while the production of collagen type Ι alpha 1 (COL1A1) was higher in lungs of vitamin D deficient mice. There were no differences in lung volume, parenchymal volume, volume of airspaces or surface area of airspaces between vitamin D deficient and vitamin D replete mice across three time-points.
Conclusions
The difference in protein expression during the early postnatal time-point suggests that vitamin D deficiency may induce alterations of lung structure and function in later life during alveolarization stage through impaired pulmonary surfactant production and anti-oxidative stress ability as well as enhanced collagen synthesis. These data provided a plausible mechanism linking maternal vitamin D deficiency with altered postnatal lung function.