01.12.2018 | Research article | Ausgabe 1/2018 Open Access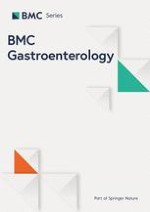 IFI16 is involved in HBV-associated acute-on-chronic liver failure inflammation
Zeitschrift:
Autoren:

Xiuqing Pang, Xinhua Li, Zhishuo Mo, Jing Huang, Hong Deng, Ziying Lei, Xingrong Zheng, Zhiying Feng, Dongying Xie, Zhiliang Gao
Abstract
Background
Hepatitis B virus (HBV) is a hepatotropic DNA virus, and its DNA may be a potent inflammatory molecule. Interferon-inducible protein 16 (IFI16), a newly discovered DNA sensor, plays an important role in the process of inflammation in viral infections. Our study sought to identify a correlation between IFI16 expression and inflammation in patients with chronic hepatitis B (CHB) and HBV-associated acute-on-chronic liver failure (HBV-ACLF).
Methods
We performed flow cytometry to measure IFI16 levels in peripheral blood mononuclear cells (PBMC) and used immunohistochemistry and western blotting to measure IFI16 protein levels in liver tissues. The cellular source of IFI16 was detected using double immunofluorescence. All datum were analyzed using SPSS 13.0 and GraphPad Prism 6.
Results
The number of IFI16+ cells was significantly associated with the degree of inflammation. In detail, the number of IFI16+ cells was higher in livers but lower in PBMCs in HBV-ACLF patients than those in CHB patients and healthy controls. There was no significant difference between CHB patients and healthy controls in numbers of IFI6+ cells in livers and PBMCs. There was no significant relationship between IFI16 expression levels and HBV parameters. Furthermore, IFI16 was expressed in the nucleus of Kupffer cells (KCs), endothelial cells, natural killer cells, dendritic cells, and hepatic stellate cells in healthy donors and CHB patients, but only in the cytoplasm of KCs in the livers of HBV-ACLF patients.
Conclusions
IFI16 was closely related to the degree of inflammation in CHB and HBV-ACLF patients and may serve as a vital contributor to the pathogeneses of liver damage in HBV-ACLF.