28.08.2018 | Preclinical study | Ausgabe 3/2018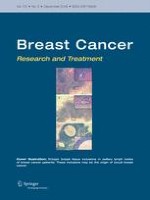 IgA Fc-folate conjugate activates and recruits neutrophils to directly target triple-negative breast cancer cells
Zeitschrift:
Autoren:

Eric D. Frontera, Rafa M. Khansa, Dana L. Schalk, Lauren E. Leakan, Tracey J. Guerin-Edbauer, Manohar Ratnam, David H. Gorski, Cecilia L. Speyer
Wichtige Hinweise
Electronic supplementary material
Abstract
Purpose
According to the American Cancer Society, 1 in 8 women in the U.S. will develop breast cancer, with triple-negative breast cancer (TNBC) comprising 15–20% of all breast cancer cases. TNBC is an aggressive subtype due to its high metastatic potential and lack of targeted therapy. Recently, folate receptor alpha (FRA) is found to be expressed on 80% of TNBC with high expression correlating with poor prognosis. In this study, we examined whether binding IgA Fc-folate molecules to FRA receptors on TNBC cells can elicit and induce neutrophils (PMNs), by binding their FcαR1 receptors, to destroy TNBC cells.
Methods
FRA was analyzed on TNBC cells and binding assays were performed using 3H-folate. Fc-folate was synthesized by linking Fc fragments of IgA via amine groups to folate. Binding specificity and antibody-dependent cellular cytotoxicity (ADCC) potential of Fc-folate to FcαR1 were confirmed by measuring PMN adhesion and myeloperoxidase (MPO) release in a cell-based ELISA. Fc-folate binding to FRA-expressing TNBC cells inducing PMNs to destroy these cells was determined using 51Cr-release and calcein-labeling assays.
Results
Our results demonstrate expression of FRA on TNBC cells at levels consistent with folate binding. Fc-folate binds with high affinity to FRA compared to whole IgA-folate and induces MPO release from PMN when bound to FcαR1. Fc-folate inhibited binding of 3H-folate to TNBC cells and induced significant cell lysis of TNBC cells when incubated in the presence of PMNs.
Conclusion
These findings support the hypothesis that an IgA Fc-folate conjugate can destroy TNBC cells by eliciting PMN-mediated ADCC.