04.08.2019 | Original Article | Ausgabe 2/2019 Open Access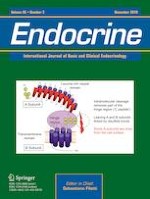 IGF2 role in adrenocortical carcinoma biology
Zeitschrift:
Autoren:

Sofia S. Pereira, Mariana P. Monteiro, Madalena M. Costa, Ângela Moreira, Marco G. Alves, Pedro F. Oliveira, Ivana Jarak, Duarte Pignatelli
Wichtige Hinweise
Supplementary information
Publisher's note:
Springer Nature remains neutral with regard to jurisdictional claims in published maps and institutional affiliations.
Abstract
Purpose
Clinical outcomes of adrenocortical carcinomas (ACC) could be improved by using novel treatment targets based on the recent advances of tumor biology knowledge. Insulin-like growth factor 2 (IGF2) protein expression is usually 8–80 fold higher in ACC when compared to normal adrenal glands (N-AG) or adrenocortical adenomas (ACA), despite the fact that the biological features of high vs. low IGF2 expressing ACC have not yet been well characterized. Our goal was to understand the IGF2 role in ACC biology by focusing in several cancer hallmarks, including cell proliferation, viability, invasion, and metabolism.
Methods
IGF2 immunohistochemistry expression was evaluated in ACC (
n
 = 13), non-functioning adrenocortical adenoma (ACAn) (
n
 = 14), and N-AG (
n
 = 9). The effects of IGF2 (50, 100 ng/mL) in cell proliferation, viability, invasion, and metabolism, as well as in MAPK/ERK and mTOR pathways activation and N-cadherin expression, were evaluated in the ACC human cell line H295R.
Results
IGF2 expression was increased in ACC compared to ACAn and N-AG. Exposure to 100 ng/mL of IGF2 increased H295R cell proliferation and viability. mTOR inhibition reverted IGF2 triggered cell proliferation and viability while MEK/MAPK/ERK inhibition only reverted IGF2 effects on cell proliferation. IGF2 at a 50 ng/mL concentration increased the glycolytic flux and decreased glutamine consumption.
Conclusions
IGF2 is an excellent marker to differentiate ACC from ACAn. In addition, IGF2 was demonstrated to influence adrenocortical cancer cell proliferation, metabolism, and viability, but not the cell invasion. These data support that different IGF2 concentrations in ACC can be responsible for different biological behaviors of ACC.