20.10.2018 | Original Article | Ausgabe 3/2019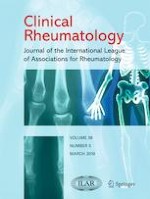 IgG levels in Kawasaki disease and its association with clinical outcomes
Zeitschrift:
Autoren:

Marco Antonio Yamazaki-Nakashimada, Luisa Berenise Gámez-González, Chiharu Murata, Takafumi Honda, Kumi Yasukawa, Hiromichi Hamada
Abstract
Previous studies have suggested an association of IgG levels (before and after IVIG infusion) with clinical outcomes in Kawasaki disease. A retrospective analysis was performed that included 418 patients with KD admitted to Tokyo Women's Medical University Yachiyo Medical Center to evaluate pre- and post-IVIG IgG levels and its relation to outcomes. All patients received an initial IVIG infusion and aspirin; IgG levels were measured in 350 patients before IVIG (pre-IVIG IgG levels) and in 373 patients 48 h after starting IVIG infusion (post-IVIG IgG levels). Media and standard deviation of the pre- and post-IVIG IgG levels were reported and classified according to age. Also, IgG z-scores were calculated according to normal values of IgG by age. The number of cases and corresponding percentage of non-responders were reported by age and total patients. The association of pre-IVIG, post-IVIG IgG levels and post-IVIG IgG level/pre-IVIG IgG level ratio with no-response was evaluated by simple logistic regression model based on the IgG z-score, and regression coefficient,
X
2
value,
p
, and
R
2
of Nagelkerke were reported. Pre-IVIG and post-IVIG IgG levels presented an association with non-responders with statistical significance. This association was more evident between post-IVIG IgG levels and non-responders. Regarding coronary alterations, it was not possible to perform an adequate statistical analysis due the small number of patients. Pre- and post-IVIG infusion IgG levels could be an important biomarker in KD as well as in other inflammatory conditions. Higher IgG levels could be associated with a more effective immunomodulatory action and associated with better clinical outcomes.