01.12.2018 | Research | Ausgabe 1/2018 Open Access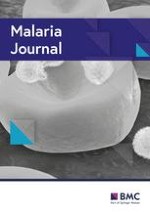 IgG subclass responses to excreted-secreted antigens of
Plasmodium falciparum

in a low-transmission malaria area of the Peruvian Amazon
Zeitschrift:
Autoren:

Rafael Saavedra-Langer, Jorge Marapara, Andree Valle-Campos, Salomón Durand, Maria E. Vásquez-Chasnamote, Hermann Silva, Viviana Pinedo-Cancino
Wichtige Hinweise
Electronic supplementary material
Abstract
Background
Malaria in Peru is concentrated in the Amazon region, especially in Loreto, and transmission is focused in rural and peri-urban communities. The government has approved a malaria elimination plan with a community approach and seeks to reduce the risk of transmission through preventive interventions, but asymptomatic and low-parasite-density infections are challenges for disease control and elimination. IgG antibodies play a critical role in combating infection through their ability to reduce parasitaemia and clinical symptoms. In particular, IgG subclasses have important roles in controlling malaria disease and may provide new insight into the development of malaria control strategies and understanding of malaria transmission. Through the use of excreted-secreted antigens from
Plasmodium falciparum
, were evaluated the responses of the four IgG subclasses in symptomatic and asymptomatic malarial infections.
Results
Higher levels of whole IgG were observed in asymptomatic carriers (P < 0.05). IgG3 and IgG1 were the most prevalent subclasses and did not show differences in their antibody levels in either type of carrier. All symptomatic carriers were positive for IgG4, and the presence of IgG3 and IgG2 were correlated with protection against parasitaemia. IgG2 showed lower prevalence and antibody titers in comparison to other subclasses.
Conclusions
This is the first study that characterizes the IgG subclass response in the Peruvian Amazon, and these results show that even in populations from regions with low malaria transmission, a certain degree of naturally acquired immunity can develop when the right antibody subclasses are produced. This provides important insight into the potential mechanisms regulating protective immunity.