01.12.2014 | Research | Ausgabe 1/2014 Open Access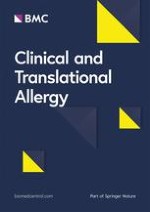 IL-17 producing T cells correlate with polysensitization but not with bronchial hyperresponsiveness in patients with allergic rhinitis
Zeitschrift:
Autoren:

Vanya M Tsvetkova-Vicheva, Svetla P Gecheva, Regina Komsa-Penkova, Angelika S Velkova, Tcvetan H Lukanov
Wichtige Hinweise
Electronic supplementary material
The online version of this article (doi:
10.​1186/​2045-7022-4-3
) contains supplementary material, which is available to authorized users.
Competing interests
The authors declare that they have no competing interests.
Authors' contributions
VT-V conceived of the study and participated in the design of the study, recruited and phenotyped the subjects, analysed and interpreted the data and drafted the manuscript. SG and TL carried out flow cytometric assays. RK was involved in the data analysis and revising of the manuscript. AV performed the statistical analysis. All authors read and approved the final manuscript.
Abstract
Background
Th2-type T cell response has a considerable role in atopic diseases. The involvement of Th17 and IL-17 in atopy process provided new understanding of allergic diseases. Bronchial hyperresponsiveness is quite common in allergic rhinitis. We aimed to explore the expression of IL-17 producing CD3+ CD4+ T cells in peripheral blood of rhinitic patients, with/without bronchial hyperresponsiveness and sensitized to common allergens, as this relationship has not been examined.
Methods
Sixty one patients with allergic rhinitis and thirty controls were examined. IL-17 producing T cells were detected by flow cytometry, IL-17, IL-4 and IL-13 levels in peripheral blood were evaluated by ELISA. Bronchial hyperresponsiveness was investigated with methacholine challenge test. Atopy was evaluated by skin prick tests with common allergens.
Results
IL-17 producing T cell percentage of AR group was significantly higher: 2.59 ± 1.32 than in controls 1.24 ± 0.22, (p = 0.001). Significant sex related difference in CD3+ CD4+ IL-17 T cells was observed: respectively in male patients versus female 3.15 ± 1.8% and 2.31 ± 0.9%, (p = 0.02). Rhinitics had greater bronchodilator responses compared to controls (p = 0.001), however the percentages of T cells in both groups appeared equal. Serum IL-17 levels in AR group were significantly higher (5.10 ± 4.40) pg/ml than in controls (3.46 ±1.28) pg/ml, (p = 0.04). IL-4 levels (0.88 ± 1.27) and IL-13 levels (3.14 ± 5.85) in patients were significantly higher than in control's (0.54 ± 0.10) pg/ml, (p = 0.001) and (1.19 ± 0.64) pg/ml; (p = 0.001) respectively.
The percentages of T cells in patients sensitized to 5 allergens (group I) were significantly lower (1.91 ± 0.62) than those sensitized to more than 5 allergens (group II) (2.91 ± 1.5) (p = 0.004).
Conclusions
The observed higher levels of IL-17 producing T cells in polysensitized males suggest a role of IL-17 in pathogenesis of AR. The higher airway responsiveness in AR may not be Th17 dependent. The higher serum values of IL-17, IL-4 and IL-13 demonstrate the presence of cytokine balance in atopic diseases.