01.12.2015 | Research article | Ausgabe 1/2015 Open Access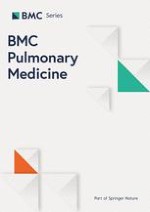 IL-27 alleviates the bleomycin-induced pulmonary fibrosis by regulating the Th17 cell differentiation
Zeitschrift:
Autoren:

Zhaoxing Dong, Xin Lu, Yanni Yang, Tao Zhang, Yongxia Li, Yanlin Chai, Wen Lei, Changbo Li, Li Ai, Wenlin Tai
Wichtige Hinweise
Zhaoxing Dong, Xin Lu and Yanni Yang contributed equally to this work.
Competing interests
The authors declare that they have no competing interests.
Authors' contributions
ZD, YY, WT and XL designed the study design and the experiments. YC, WL, CL, LA and were responsible for PCR, Western Blot, Flow cytometry analysis and data collection. YL analyzed the data. ZD and WT drafted the manuscript. All authors read, critically revised, and approved the final manuscript.
Abstract
Background
Interleukin-27 (IL-27) is a multifunctional cytokine with both pro-inflammatory and immunoregulatory functions. At present, the role of IL-27 in pulmonary fibrosis remains unknown.
Methods
In this study, we observed the expression of IL-27/IL-27R in a mouse model of bleomycin (BLM)-induced pulmonary fibrosis. We verified the role of IL-27 using hematoxylin and eosin as well as Masson's staining methods and measuring the content of hydroxyproline as well as collagen I and III. We assessed the differentiation of T lymphocytes in the spleen and measured the concentration of cytokines in bronchoalveolar lavage fluid (BALF) and the expression level of relevant proteins in the JAK/STAT and TGF-ß/Smad signaling pathways in lung tissue.
Results
Increased IL-27 expression in BLM-induced pulmonary fibrosis was noted. IL-27 treatment may alleviate pulmonary fibrosis and increase the survival of mice. IL-27 inhibited the development of CD4+ IL-17+, CD4+ IL-4+ T, and CD4+ Foxp3+ cells and the secretion of IL-17, IL-4, IL-6, and TGF-ß. IL-27 induced the production of CD4+ IL-10+ and CD4+ INF-γ+ T cells. IL-27 decreased the levels of phosphorylated STAT1, STAT3, STAT5, Smad1, and Smad3 but increased the level of SOCS3.
Conclusions
This study demonstrates that IL-27 potentially attenuates BLM-induced pulmonary fibrosis by regulating Th17 differentiation and cytokine secretion.