01.12.2012 | Research | Ausgabe 1/2012 Open Access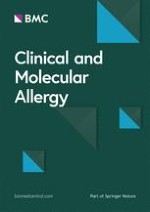 IL-3 and TNFα increase Thymic Stromal Lymphopoietin Receptor (TSLPR) expression on eosinophils and enhance TSLP-stimulated degranulation
Zeitschrift:
Autoren:

Ellen B Cook, James L Stahl, Elizabeth A Schwantes, Kristen E Fox, Sameer K Mathur
Wichtige Hinweise
Electronic supplementary material
The online version of this article (doi:
10.​1186/​1476-7961-10-8
) contains supplementary material, which is available to authorized users.
Ellen B Cook, James L Stahl contributed equally to this work.
Competing interests
The authors declare that there are no competing interests.
Authors' contributions
EBC conceived of the study, participated in its design, carried out flow cytometry and eosinophil functional studies and analyzed results. JLS participated in the study design, coordination, carried out eosinophil functional studies, and formatted the final version of the manuscript and figures for submission. EAS, KEF carried out RNA and eosinophil functional studies, and analyzed results. SKM conceived of the study and participated in its design. All authors were involved in drafting or critically revising the manuscript and approved the final version.
Abstract
Background
Thymic stromal lymphopoietin (TSLP) and eosinophils are prominent components of allergic inflammation. Therefore, we sought to determine whether TSLP could activate eosinophils, focusing on measuring the regulation of TSLPR expression on eosinophils and degranulation in response to TSLP, as well as other eosinophil activation responses.
Methods
Eosinophil mRNA expression of TSLPR and IL-7Rα was examined by real-time quantitative PCR of human eosinophils treated with TNFα and IL-5 family cytokines, and TSLPR surface expression on eosinophils was analyzed by flow cytometry. Eosinophils were stimulated with TSLP (with and without pre-activation with TNFα and IL-3) and evaluated for release of eosinophil derived neurotoxin (EDN), phosphorylation of STAT5, and survival by trypan blue exclusion. A blocking antibody for TSLPR was used to confirm the specificity of TSLP mediated signaling on eosinophil degranulation.
Results
Eosinophil expression of cell surface TSLPR and TSLPR mRNA was upregulated by stimulation with TNFα and IL-3. TSLP stimulation resulted in release of EDN, phosphorylation of STAT5 as well as promotion of viability and survival. TSLP-stimulated eosinophil degranulation was inhibited by a functional blocking antibody to TSLPR. Pre-activation of eosinophils with TNFα and IL-3 promoted eosinophil degranulation at lower concentrations of TSLP stimulation.
Conclusions
This study demonstrates that eosinophils are activated by TSLP and that eosinophil degranulation in response to TSLP may be enhanced on exposure to cytokines present in allergic inflammation, indicating that the eosinophil has the capacity to participate in TSLP-driven allergic responses.