18.12.2017 | Original Article | Ausgabe 4/2018 Open Access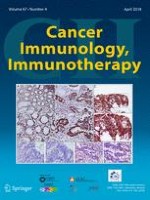 IL-6 and IL-10 are associated with good prognosis in early stage invasive breast cancer patients
Zeitschrift:
Autoren:

Narmeen Ahmad, Aula Ammar, Sarah J. Storr, Andrew R. Green, Emad Rakha, Ian O. Ellis, Stewart G. Martin
Wichtige Hinweise
Electronic supplementary material
Narmeen Ahmad and Aula Ammar have contributed equally to this work.
Abstract
Macrophage-associated cytokines play an important role in cancer metastasis; however, the functions of interleukins (IL) 6 and 10 in breast cancer (BC) progression and metastasis are not clear. In this study the roles of IL-6/IL-10 in regulating vascular invasion and their prognostic significance in BC are investigated. MDA-MB-231 and MCF-7 migration (± IL-6 or IL-10) was assessed by scratch wound assay. Cancer cell adhesion to IL-6/IL-10 stimulated blood and lymphatic endothelial cells (EC) was investigated. Expression of IL-6 /IL-10 was assessed using immunohistochemistry in an annotated cohort of early stage BC (
n
 = 1380) and associations with clinicopathological variables and clinical outcome evaluated. IL-6 did not alter BC cell migration however a dose-dependent inhibition in MDA-MB-231 migration with IL-10 treatment was observed (
P
 = 0.03). BC cells were more adhesive to blood vs lymphatic EC, however, IL-6/IL-10 had no effect on adhesion patterns. High expression of IL-6/IL-10 was associated with clinicopathological criteria (e.g. hormone receptor status, all
P
 < 0.05), improved disease-free survival (DFS;
P
 < 0.05) and improved BC-specific survival (BCSS; only IL-6,
P
 = 0.017). However, neither IL-6 nor IL-10 expression were independent prognostic factors from multivariate analysis. In BC subgroups, IL-6 and IL-10 were good prognosticators in terms of DFS in non-basal, non-triple-negative (non-TN), ER-positive, PgR-positive (only IL-10), and Her-2-negative (only IL-6) BC (all
P
 < 0.05). IL-6 was associated with improved BCSS in non-basal, ER-positive and non-TN BC (all
P
 < 0.05).