28.09.2016 | Original Article | Ausgabe 12/2016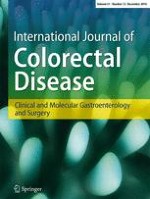 Ileal pouch-anal anastomosis 20 years later: is it still a good surgical option for patients with ulcerative colitis?
Zeitschrift:
Autoren:

Gentilini Lorenzo, Coscia Maurizio, Lombardi Pietro Maria, Marta Tanzanu, Laureti Silvio, Podda Mariangela, Poggioli Gilberto
Wichtige Hinweise
Long-term outcomes and functional results after IPAA
Abstract
Purpose
Short-term results after ileo-pouch anal anastomosis (IPAA) are well established; data are conflicting in long-standing patients. We retrospectively evaluated long-term complications and functional results after follow-up longer than 20 years.
Methods
Two hundred five patients with follow-up longer than 20 years have been identified out of 1112 IPAA performed in our institution; of these, 20 cases were lost at follow-up or decline to take part at the study. We evaluated long-term complications and failure rate also according to changes in histological diagnosis. Changes in functional results and quality of life (QoL) were analyzed at 5 and 20 years after IPAA.
Results
Pouch failure rate was 10.8 % (35 % due to misdiagnosed Crohn). Incidences of fistulas, anastomotic stenosis, chronic pouchitis, and pre-pouch ileitis were 17.3, 12.9, 28.6, and 7.6 %, respectively. Most of the patients reported good functional outcomes. Day-time evacuations at 5 and after 20 years were 4.3 and 4.8 (
p
= n.s.) while during night-time were 0.8 and 1.2 (
p
< 0.05). Urgency was 6 and 9.4 % (
p
= n.s.), respectively; need of antimotility drugs was 16 and 35 % (
p
< 0.001). Dietary limitations and work restrictions were similar over time. Only sexuality got worse during follow-up. Satisfaction for surgery was always high and it did not change over time.
Conclusion
IPAA is still an excellent surgical option for UC with a low rate of pouch failure even after more than 20 years. Despite a slight worsening of functional results over time, the QoL remained high and most patients expressed satisfaction with the procedure and were willing to recommend it to others.