09.01.2020 | Original Contributions | Ausgabe 5/2020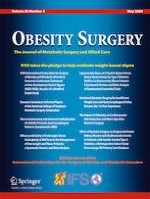 Ileal Transposition Increases Pancreatic β Cell Mass and Decreases β Cell Senescence in Diet-Induced Obese Rats
Zeitschrift:
Autoren:

Chang Ho Ahn, Eun Hye Choi, Tae Jung Oh, Young Min Cho
Wichtige Hinweise
Electronic supplementary material
Publisher's Note
Springer Nature remains neutral with regard to jurisdictional claims in published maps and institutional affiliations.
Abstract
Background
Ileal transposition (IT) is a surgical procedure to investigate the role of the distal small intestine in metabolic improvements induced by bariatric/metabolic surgery, which has been applied to some human cases. We performed IT in diet-induced obese rats to investigate the effect of IT on glucose metabolism and β cell senescence.
Methods
Sprague-Dawley rats were fed high-fat diet (60% of total calories from fat) for 12 weeks and randomized into either IT or sham surgery. In the IT group, the distal ileal segment located between 5 and 15 cm proximal to the ileocecal valve was transposed 10 cm distal to the Treitz ligament isoperistaltically. In the sham surgery group, 3 corresponding transections of the intestine were made at the same locations as in IT and reattached in situ. β cell senescence was examined by the expression of two markers in vivo, p53BP1 and p16.
Results
IT did not have a significant effect on body weight and insulin sensitivity, but postprandial insulin secretion was significantly increased. Glucagon-like peptide-1 (GLP-1) and peptide YY secretion were also increased after IT. The histology of the transposed ileum showed distinct hypertrophy with increased GLP-1 positive enteroendocrine cells. Pancreatic β cell area was significantly increased in the IT group. The percentage of p16 or p53BP1 positive senescent β cells was significantly lower in the IT group versus the sham group.
Conclusions
IT improved glucose tolerance in diet-induced obese rats mainly through augmented insulin secretion. This improvement was associated with attenuated β cell senescence.