01.12.2018 | Research article | Ausgabe 1/2018 Open Access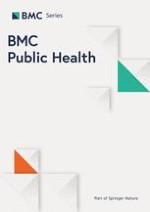 Illegal gold miners in French Guiana: a neglected population with poor health
Zeitschrift:
Autoren:

Maylis Douine, Emilie Mosnier, Quentin Le Hingrat, Charlotte Charpentier, Florine Corlin, Louise Hureau, Antoine Adenis, Yassamine Lazrek, Florence Niemetsky, Anne-Laure Aucouturier, Magalie Demar, Lise Musset, Mathieu Nacher
Abstract
Background
In French Guiana, a French overseas territory in South America, 6 to 10 thousands undocumented persons work illegally in gold mining sites in the Amazonian forest. Precarious life conditions lead to poor health but few data exist on the health status of illegal gold miners in French Guiana. The objective of this article was to describe the sociodemographic and health status of this vulnerable population.
Method
A prospective cross-sectional survey was conducted in 2015 on gold mine supply sites at the border between French Guiana and Suriname. Health status was assessed through medical examination, past medical history, haemoglobin concentration, and HIV and malaria testing. A questionnaire was used to collect data about the migration itinerary and life conditions on mining sites.
Results
Among the 421 adults included in the study, 93.8% (395/421) were Brazilian, mainly from Maranhão (55.7%, 220/395), the poorest Brazilian state. The sex ratio was 2.4. Overall, 48% of persons never went to school or beyond the primary level. The median time spent in gold mining was quite long (10 years), with a high turn-over. One third of the surveyed population (37.1%, 156/421) had high blood pressure, and only two had a medical follow-up. Most persons had experienced malaria (89.3%, 376/421). They declared frequent arboviroses and digestive disorders. Active leishmaniasis was observed in 8.3% of gold miners. Among women, 28.5% were anemic. Concerning HIV, 36.6% (154/421) of persons, mainly men, never got tested before and 6 were tested positive, which represented an HIV prevalence of 1.43% (95%CI =0.29–2.5).
Conclusion
These findings support the hypothesis that mining in remote areas is linked to several specific illnesses. Theoretically, gold miners would be presumed to start their economical migration to French Guiana as a healthy group. However, their strenuous working and living conditions there lead to poor health caused by infectious and non infectious diseases. This description of their health status is precious for health policy planners in French Guiana given the importance of controlling communicable disease, and the severity and range of specific illnesses acquired by this neglected population.
Trial registration
Retrospectively registered 09/13/2016.