01.12.2015 | Research article | Ausgabe 1/2015 Open Access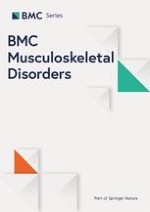 Imaging methods for quantifying glenoid and Hill-Sachs bone loss in traumatic instability of the shoulder: a scoping review
Zeitschrift:
Autoren:

David J. Saliken, Troy D. Bornes, Martin J. Bouliane, David M. Sheps, Lauren A. Beaupre
Wichtige Hinweise
Electronic supplementary material
The online version of this article (doi:
10.​1186/​s12891-015-0607-1
) contains supplementary material, which is available to authorized users.
Competing interests
The authors declare that they have no competing interests.
Authors' contributions
DJS, TB, MB, DMS, LB contributed to study concept and design; DS and TB performed data acquisition; DJS, TB, MB, DMS, LB contributed to data analysis, interpretation and drafting and revising the manuscript. All authors read and approved the final draft of the manuscript.
Abbreviations
2DCT
Two-dimensional computed tomography
3DCT
Three-dimensional computed tomography
BCSA
Best-fit circle surface area
d/R
Hill Sachs defect depth and humeral head radius
ICC
Intraclass correlation coefficient
MPR
Multiplanar reconstruction
MRA
Magnetic resonance arthrography
MRI
Magnetic resonance imaging
VIBE
Volumetric interpolated breath-hold examination
Background
The degree of glenohumeral bone loss affects the success of arthroscopic Bankart repair and, at present, there is no consensus on a gold standard imaging method or modality for the quantification of glenohumeral bone loss. We performed a scoping review of the literature to identify current published imaging methods for quantifying glenoid and humeral head bone loss in GHI and to evaluate if there was a gold standard method and modality supported by evidence.
Methods
Study design
A scoping review was performed to evaluate the literature based on established guidelines [
40
,
41
]. Scoping reviews are designed to assess the extent of a body of literature and identify knowledge gaps. Although qualitative in nature, the review can be systematic in approach through a comprehensive search strategy and standardized study selection and evaluation, as in our study. Due to heterogeneity in the articles reviewed, no meta-analyses were performed in this study.
Selection criteria
Studies were included if the following conditions were met: (1) publication after the year 2000 (following a preliminary review of the literature, the majority of relevant imaging methods were published after this time point; publications prior to 2000 are included in our introduction and discussion when historically relevant); (2) use of human or cadaveric human subjects; (3) evaluation of imaging methods including radiography, CT, and/or MRI; and (4) quantification of glenoid or Hill-Sachs bone loss using these imaging modalities. Criteria for exclusion were: (1) non-English language; and (2) publication in the form of an abstract, letter, or review article.
Search strategies
MEDLINE, EMBASE, Scopus, and Web of Science were searched from January 2000 until July 2013. A search algorithm was created with the guidance of a medical librarian (see Additional file
1
).
Study selection
Article selection was performed over two rounds, by two orthopaedic surgery residents with the assistance of two upper extremity fellowship-trained orthopaedic surgeons. During the first round, selection was based on the review of titles and abstracts. To be as inclusive as possible, an article was carried forward to the next stage if either reviewer thought that the study was appropriate. Final study selection was based on full text review using the aforementioned inclusion and exclusion criteria. Duplicate studies were kept until the final article selection. Consensus was reached for final article inclusion through discussion amongst the investigators.
Data extraction
One reviewer extracted study design, imaging modality evaluated, patient characteristics, quantification method used, and findings. A second reviewer independently assessed data extraction for any discrepancies. When provided by the authors, the reliability, accuracy, sensitivity, and specificity are presented in the results section with accompanying tables.
Results
Discussion
Glenohumeral bone loss is a key factor in predicting recurrent instability following traumatic anterior shoulder dislocation. Increasing size of glenoid and Hill-Sachs lesions are associated with higher failure rates of arthroscopic Bankart repairs. Clinical and biomechanical studies have attempted to determine threshold values of glenohumeral bone loss to use in preoperative planning. Radiography, CT, and MRI have all been explored as imaging modalities for quantification of these glenohumeral bone lesions, with CT being studied most extensively. Within each modality a number of methods have been proposed to quantify the bone loss. There is still a need for further investigation to determine the best modality and method but significant progress has been made since 2000.
Radiography appears to have a role in screening patients for glenoid bone loss; standard radiographic views are straightforward for imaging technicians to obtain but their accuracy is low compared to CT and MRI [
42
]. Specialized radiographic views are more accurate; however they may be difficult to reproduce clinically due to patient discomfort or apprehension [
74
]. Slight deviations in gantry orientation or arm positioning may also obscure the bony details [
47
].
Two general methods emerged when quantifying glenoid bone loss using advanced imaging, width and surface area methods. Each of these methods uses humeral head subtraction and reconstruction to obtain
en face
views of the glenoid. Because bone loss occurs anteriorly, width methods measure the bone loss in this anterior-posterior dimension in the inferior 2/3 of the glenoid. Ji
et al.
state that this measurement should be made specifically at 03:20 on a clock face, the most common location of bone loss [
13
]. The bone loss in the width methods is expressed compared to the pre-injury glenoid. Some authors have used CT scans of the contralateral, uninjured shoulder to obtain the pre-injury width. Others have approximated the pre-injury width by using the intact inferior edges of the injured glenoid to place a circle. Earlier studies suggested that either form of calculating the width loss was adequate, although newer studies have found that using bilateral CT is more accurate [
42
,
63
]. The Glenoid Index (Fig.
5
) is the most accurate width measurement method. Surface area methods function by approximating a circle to the inferior glenoid in the same manner as the width methods then finding the area missing. The surface area methods have been studied frequently and have good to excellent reliability [
32
,
60
,
65
]. Initially computer software was required to calculate the surface area; however Barchillon
et al.
showed that one could use a femoral gauge in a clinical setting and still produce accurate results [
20
]. Comparative studies suggest that the Pico Method based on bilateral CT scans is most accurate and reliable, particularly when using 3DCT versus 2DCT [
42
,
48
,
63
]. The accuracy of the Pico method may be affected in part due to the curved nature and concavity of the glenoid. De Felippo
et al.
have attempted to address this with their De Felippo method that utilizes curved MPR. This was shown to have low interobserver variability and a high correlation with their reference standard. Evidence is currently equivocal if MRI can be used to calculate glenoid bone loss using width and surface area methods in a clinical setting [
48
,
50
,
61
]. In comparative studies, CT was found to be more accurate than MRI [
42
,
48
].
Radiography has been shown to be useful in quantifying Hill-Sachs bone loss. Creating a depth/radius ratio on a true AP radiograph with internal rotation is reliable and shown to be clinically relevant, although the accuracy has not been clarified [
37
,
46
,
47
]. CT imaging has been used to quantify depth, width, and volume of the lesion. It appears the reliability of CT is good but its accuracy is questionable, often underestimating the size of the lesion [
72
]. A complicating factor in determining the significance of a Hill-Sachs lesion is the role its orientation plays. More horizontal lesions tend to engage the glenoid lesion and incorporating this factor along with the size is likely important but has not been determined yet [
36
]. Walia
et al.
have explored how Hill-Sachs and glenoid lesions interact and engage theoretically and concluded that combined bony defects reduced stability more than expected based on isolated defects alone [
30
]. The exact way they reduce stability and how to calculate this clinically is unknown.
This study is limited by its qualitative nature. Because the literature has evaluated multiple methods and modalities with different statistical tools it is difficult to pool data and achieve a clear answer of which method is the best. However, this may guide future prospective studies into which method to apply. There was a trend to use either a width or surface-area method, each of which can be applied with the same imaging data set obtained from a CT or MRI. Comparing these methods and correlating with surgical results may give an answer to the best imaging method.
Conclusions
Our scoping review has synthesized the current evidence regarding imaging techniques to quantify glenoid and Hill-Sachs bone loss. A number of modalities and methods have been explored to quantify glenoid bone loss. Radiography does not appear to have the accuracy required for pre-operative planning but may play a role in screening patients that would require advanced imaging. The Bernageau profile view to calculate AP glenoid width is the most accurate radiograph. CT is the most accurate modality but the risk of radiation exposure, particularly when using methods that require bilateral imaging, needs to be considered. Of the methods used with CT, the Glenoid Index is the most accurate and reliable width method while the Pico Method is the most accurate and reliable surface area method. The Glenoid Index requires bilateral shoulder CT and the Pico Method is most accurate when applied using bilateral CT but may also be applied with unilateral imaging. There are equivocal findings about the accuracy or MRI compared to CT and this needs to be clarified by future studies.
A consensus measurement technique for calculating Hill-Sachs bone loss or a threshold size for predicting recurrent instability has not yet been established. Larger lesions, at least >25 % of the humeral head diameter, appear to increase risk of recurrent instability in biomechanical studies [
24
]. Calculating a depth:radius radio on a true AP radiograph with the arm internally rotated is inexpensive, easy to obtain, and predicts recurrence with good reliability when >20 %. However, its accuracy has not yet been established. Measuring the depth and width on axial slices of a CT scan have good to excellent reliability and have been associated with engaging Hill-Sachs lesions. However the role of CT in predicting recurrence has not been determined.
Ease of calculation, radiation exposure, experience of interpreting radiologist or surgeon, and software availability are factors that should be considered when determining which method will be used. Finally, glenoid and Hill-Sachs bone loss may need to be evaluated together as the manner in which these lesions interact is complex and requires further study.
Acknowledgements
LB receives salary support from the Canadian Institutes of Health Research as a New Investigator (Patient Oriented Research) and Alberta Innovates Health Solutions as a Population Health Investigator.
DMS, MB and LB are members of the Shoulder and Upper Extremity Research Group of Edmonton (SURGE).
Competing interests
The authors declare that they have no competing interests.
Authors' contributions
DJS, TB, MB, DMS, LB contributed to study concept and design; DS and TB performed data acquisition; DJS, TB, MB, DMS, LB contributed to data analysis, interpretation and drafting and revising the manuscript. All authors read and approved the final draft of the manuscript.