17.10.2016 | Oncology | Ausgabe 6/2017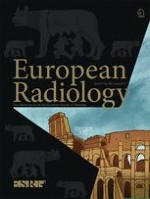 Imaging of gastrointestinal melanoma metastases: Correlation with surgery and histopathology of resected specimen
Zeitschrift:
Autoren:

Ahmed E. Othman, Thomas K. Eigentler, Georg Bier, Christina Pfannenberg, Hans Bösmüller, Christian Thiel, Claus Garbe, Konstantin Nikolaou, Bernhard Klumpp
Abstract
Objective
To assess the appearance of gastrointestinal melanoma metastases on CT and PET/CT and evaluate the diagnostic value of CT and PET/CT compared with surgery and histopathology.
Methods
We retrospectively included 41 consecutive patients (aged 56.1 ± 13.5 years) with gastrointestinal melanoma metastases who underwent preoperative imaging (CT: all, PET/CT:
n
 = 24) and metastasectomy. Two blinded radiologists assessed CT and PET/CT for gastrointestinal metastases and complications. Diagnostic accuracy and differences regarding lesion detectability and complications were assessed, using surgical findings and histopathology as standard of reference.
Results
Fifty-three gastrointestinal melanoma metastases (5.0 ± 3.8 cm) were confirmed by surgery and histopathology. Lesions were located in the small bowel (81.1 %), colon (15.1 %) and stomach (3.8 %), and described as infiltrating (30.2 %), polypoid (28.3 %), cavitary (24.5 %) and exoenteric (17.0 %). Fifteen patients (37 %) had gastrointestinal complications. Higher complication rates were associated with large and polypoid lesions (
p ≤
 .012). Diagnostic accuracy was high for CT and PET/CT (AUC ≥ .802). For reader B (less experienced), CT yielded lower diagnostic accuracy than PET/CT (
p
 = .044).
Conclusion
Most gastrointestinal melanoma metastases were located in the small bowel. Large and polypoid metastases were associated with higher complication rates. PET/CT was superior for detection of gastrointestinal melanoma metastases and should be considered in patients with limited disease undergoing surgery.
Key Points
•
Gastrointestinal melanoma metastases (GI-MM) are rare but often cause serious gastrointestinal complications.
•
Early detection of GI-MM is important to prevent complications and guide surgery.
•
PET/CT is superior to CT for detection of GI-MMs.
•
PET/CT should be considered for patients with limited disease before surgical resection.