30.10.2018 | Original Article | Ausgabe 2/2019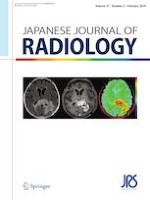 Imaging of renal cell carcinoma in patients with acquired cystic disease of the kidney: comparison 11C-choline and FDG PET/CT with dynamic contrast-enhanced CT
Zeitschrift:
Autoren:

Kazuhiro Kitajima, Shingo Yamamoto, Yusuke Kawanaka, Takayuki Katsuura, Masahiro Fujita, Yukako Nakanishi, Yusuke Yamada, Takahiko Hashimoto, Toru Suzuki, Shuken Go, Akihiro Kanematsu, Michio Nojima, Koichiro Yamakado
Abstract
Purpose
To evaluate renal cell carcinoma (RCC) findings in acquired cystic disease of the kidney (ACDK) shown by 11C-choline and FDG PET/CT, and contrast-enhanced CT.
Materials and methods
Six ACDK patients with 7 RCCs underwent 11C-choline and FDG PET/CT, and contrast-enhanced CT before nephrectomy. Findings obtained with 3 imagings were evaluated and sensitivity detecting RCC was compared using 3-point grading scale (negative, equivocal, positive). The equivocal scale used for SUVmax ranged from 2.0 to 3.0 for PET/CT and a peak enhancement value ranging from 20 to 30 HU was used for CT.
Result
The histopathologic subtypes of 7 RCCs were clear-cell (
n
 = 4) and ACD-associated RCC (
n
 = 3). The negative/equivocal/positive grading results were 0/0/7 for
11
C-choline-PET/CT, 0/3/4 for FDG-PET/CT, and 2/2/3 for CT. Three equivocal cases by FDG-PET/CT were 2 clear-cell RCCs and 1 ACD-associated RCC. CT of 3 ACD-associated RCCs showed negativity for 2 and equivocality for 1. Sensitivity defining equivocal interpretation as negative for
11
C-choline-PET/CT, FDG-PET/CT, and CT was 100% (7/7), 57.1% (4/7), and 42.9% (3/7).
Conclusion
11C-choline-PET/CT was more sensitive to detect RCC in ACDK as compared to FDG-PET/CT and contrast-enhanced CT in our series. FDG-PET/CT may be limited for detecting clear-cell RCC, while CT may have difficulty with detection of ACD-associated RCC.