29.03.2021 | Original Article | Ausgabe 6/2021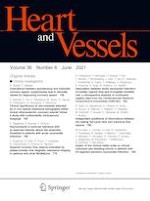 Immediate electrophysiological characteristics following modified thoracoscopic ablation via unilateral approach for non-valvular atrial fibrillation
Zeitschrift:
Autoren:

Nan Ma, Shiao Ding, Lijun Zeng, Chen Tan, Shengchao Li, Xingpeng Liu, Ju Mei
Wichtige Hinweise
Nan Ma, Shiao Ding and Lijun Zeng contributed equally to this work.
Publisher's Note
Springer Nature remains neutral with regard to jurisdictional claims in published maps and institutional affiliations.
Abstract
Background
Thoracoscopic ablation has emerged as an effective therapy for patients with long-standing persistent Atrial fibrillation (LsPAF). We aimed to investigate the immediate electrophysiological characteristics following modified ablation with 3 circular and 3 linear lesions in the thoracoscopic procedure via a unilateral approach.
Methods
Between May 2015 and October 2018, 40 patients underwent the one-stage hybrid procedure for LsPAF. Isolation of the pulmonary veins (PV) and left atrium posterior wall (LAPW), excision of the left atrial appendage (LAA), and high-density endocardial mapping and individualized percutaneous catheter ablation for AF termination were performed.
Results
The modified thoracoscopic procedure may enable successful PV and LAPW isolation and LAA removal. Endocardial electrophysiological examination showed 6 out of 40 (15%) patients with a right PV gap, 3 (7.5%) patients with incomplete roof lesions, and 8 (20%) patients with incomplete Dallas lesions. A total of 44 driving areas were mapped and ablated. Thirty-five patients achieved procedural AF termination. After a mean follow-up period of 26 months, the success rate of a single procedure was 85%. Cox regression analysis demonstrated that the failure of procedural AF termination may be a risk factor in atrial tachyarrhythmia recurrence.
Discussion
Endocardial electrophysiological examination is a necessary partner to thoracoscopic ablation. Our modified thoracoscopic ablation and driving areas-based ablation contribute to high rates of procedural AF termination, which may lead to reduced recurrence rate. The hybrid procedure may be an effective strategy for the management of LsPAF.