01.04.2009 | ORIGINAL PAPER | Ausgabe 4/2009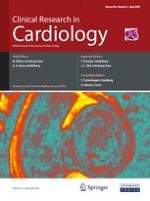 Immediate versus delayed angioplasty in infarct-related arteries with TIMI III flow and ST segment recovery: a matched comparison in acute myocardial infarction patients
Zeitschrift:
Autoren:

MD, PhD, FESC Nicolas Meneveau, Marie France Séronde, Vincent Descotes-Genon, Joanna Dutheil, Romain Chopard, Fiona Ecarnot, Florent Briand, Yvette Bernard, François Schiele, Jean-Pierre Bassand
Abstract
Background
Early management of patients with patent infarct-related artery (IRA) and optimal ST resolution in ST elevation myocardial infarction (STEMI) has never been assessed. We compared immediate vs delayed PCI in these patients.
Methods
Matched comparison of immediate vs delayed (24 h) PCI in STEMI patients presenting with patent IRA, thrombus-containing lesion and ST resolution ≥70%. Patients were matched for duration of symptoms, intervention type, angiographic data, diabetes. Patients in immediate PCI group received standard therapy in the cathlab. Patients in delayed PCI group received dual antiplatelet therapy, antithrombins, and GPIIb-IIIa inhibitors until PCI. Primary endpoint was procedural success. Secondary endpoints were enzyme release and in-hospital adverse events.
Results
Seventy-eight patients were included: 39 per group. Average age 62 years, 75% males. There was a significantly higher procedural success rate in the delayed PCI group (95% success, Vs. 77% in the immediate group,
P
= 0.008). Initial thrombus burden score did not differ between immediate and delayed PCI groups, but improved significantly in the delayed group between baseline angiography and time of PCI (
P
= 0.039). There was no difference in major adverse events or bleeding complications between groups. Peak CK levels were significantly higher in the immediate versus delayed PCI group (
P
= 0.02), although there was no difference between groups in peak CK-MB, peak troponin, or peak CK-MB ratio.
Conclusion
Our data suggest that in STEMI patients with patent IRA, optimal ST-segment resolution, and thrombus-containing lesion, deferred PCI when patients are given dual antiplatelet therapy, antithrombin agents, and GPIIb-IIIa inhibitors results in a higher procedural success rate, without an increased risk of MACE.