01.12.2012 | Research | Ausgabe 1/2012 Open Access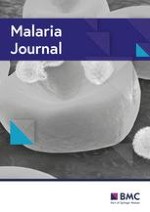 Immunoglobulins against the surface of
Plasmodium falciparum-

infected erythrocytes increase one month after delivery
Zeitschrift:
Autoren:

Alfredo Mayor, Elisa Serra-Casas, Eduard Rovira-Vallbona, Alfons Jiménez, Llorenç Quintó, Betuel Sigaúque, Carlota Dobaño, Azucena Bardají, Pedro L Alonso, Clara Menéndez
Wichtige Hinweise
Competing interests
The authors have no commercial or other association that may pose a conflict of interest.
Authors' contributions
AM conceived the study, performed the statistical analysis and drafted the manuscript; ES and AJ carried out the immunological and molecular determinations; LQ participated in the statistical analysis; ERV, CD and AB participated in the interpretation of results and the drafting of the manuscript; BS participated in the acquisition of data; PLA and CM contributed to the interpretation of the results and the drafting of the manuscript. All authors have read and approved the manuscript.
Abstract
Background
The risk of
Plasmodium falciparum
malaria increases during pregnancy and at early postpartum. Immunological and physiological alterations associated with pregnancy that persist after delivery may contribute to the susceptibility to
P. falciparum
during early postpartum period.
Methods
To determine changes in antibody-mediated responses after pregnancy, levels of Immunoglobulin G (IgGs) specific for
P. falciparum
were compared in 200 pairs of plasmas collected from Mozambican women at delivery and during the first two months postpartum. IgGs against the surface of erythrocytes infected with a
P. falciparum
chondroitin sulphate A binding line (CS2) and a paediatric isolate (MOZ2) were measured by flow cytometry.
Results
IgG levels against CS2 and MOZ2 were higher at postpartum than at delivery (p = 0.033 and p = 0.045, respectively) in women without
P. falciparum
infection. The analysis stratified by parity and period after delivery showed that this increase was significant in multi-gravid women (p = 0.023 for CS2 and p = 0.054 for MOZ2) and during the second month after delivery (p = 0.018 for CS2 and p = 0.015 for MOZ2).
Conclusions
These results support the view that early postpartum is a period of recovery from physiological or immunological changes associated with pregnancy.