21.01.2017 | Original Article | Ausgabe 3/2017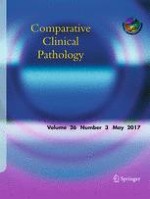 Immunohistochemical expression of transforming growth factor Beta-1 in canine mammary carcinomas: its relationships with histologic grading, survival rate, and recurrence
Zeitschrift:
Autoren:

Massoud Rezaee, Ahmad Reza Movassaghi, Mohsen Maleki
Abstract
Mammary tumors are the most common neoplasm in female dogs and are considered important health problems. In this study we aimed to investigate Transforming Growth Factor Beta-1 (TGF-β1) expression in canine mammary carcinomas (CMCs) by immunohistochemistry and its relationships with histologic grading, survival rate, and recurrence. Tissues were selected from 35 cases of CMCs and were included in a 2-year follow-up study. Immunohistochemistry for detection of TGF-β1 protein was carried out using Avidin-Biotin Complex (ABC) method, and the immunostained slides were scored according to the distribution and intensity of positive reactions. Results indicated that TGF β-1 expression increased significantly in CMCs in comparison to canine normal mammary gland (
P
< 0.05), 6/35 (17.14%) of tumor samples showed weak immunoreactivity, 15/35 (42.85%) moderate, and 14/35 (40%) showed strong immunoreactivity for TGF-β1. It is also revealed that TGF β-1 increased expression is in significant relationships with higher histologic grades and shorter survival rate after 2 years but not with tumor recurrence.