01.12.2017 | Research | Ausgabe 1/2017 Open Access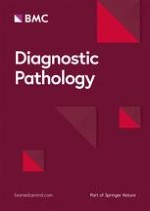 Immunohistochemistry of sarcolemmal membrane-associated proteins in formalin-fixed and paraffin-embedded skeletal muscle tissue: a promising tool for the diagnostic evaluation of common muscular dystrophies
Zeitschrift:
Autoren:

Chinnawut Suriyonplengsaeng, Charungthai Dejthevaporn, Chaiyos Khongkhatithum, Suda Sanpapant, Nattha Tubthong, Koset Pinpradap, Nippa Srinark, Jariya Waisayarat
Abstract
Background
The analysis of fresh frozen muscle specimens is standard following routine muscle biopsy, but this service is not widely available in countries with limited medical facilities, such as Thailand. Nevertheless, immunohistochemistry (IHC) analysis is essential for the diagnosis of patients with a strong clinical suspicion of muscular dystrophy, in the absence of mutations detected by molecular genetics. As the successful labelling of sarcolemmal membrane-associated proteins in formalin-fixed and paraffin-embedded (FFPE) muscle sections using IHC staining has rarely been described, this study aimed to develop a reproducible IHC method for such an analysis.
Methods
Thirteen cases were studied from the files of the Department of Pathology, Mahidol University. Diagnoses included three Duchenne muscular dystrophy (DMD), one Becker muscular dystrophy (BMD), one dysferlinopathy, and several not-specified muscular dystrophies. IHC was performed on FFPE sections at different thicknesses (3 μm, 5 μm, and 8 μm) using the heat-mediated antigen retrieval method with citrate/EDTA buffer, followed by an overnight incubation with primary antibodies at room temperature. Antibodies against spectrin, dystrophin (rod domain, C-terminus, and N-terminus), dysferlin, sarcoglycans (α, β, and γ), and β-dystroglycan were used. Frozen sections were tested in parallel for comparative analysis.
Results
Antibodies labelling spectrin, dystrophin (rod domain and C-terminus), dysferlin, sarcoglycans (α, β, and γ), and β-dystroglycan clearly exhibited sarcolemmal staining in FFPE sections. However, staining of FFPE sections using the antibody directed against the N-terminus of dystrophin was unsuccessful. The absence of labeling for dystrophins and dysferlin in FFPE sections was documented in all three DMD patients and the dysferlinopathy patient. The BMD diagnosis could not be made using IHC in FFPE sections alone because of a lack of staining for the dystrophin N-terminus, indicating a limitation of this method.
Conclusions
We developed a reliable and reproducible IHC technique using FFPE muscle. This could become a valuable tool for the diagnosis of some muscular dystrophies, dystrophinopathies, sarcoglycanopathies (LGMD2D, LGMD2E, and LGMD2C), and dysferlinopathy, especially in situations where the analysis of fresh frozen muscle samples is not routinely available.