01.12.2018 | Review | Ausgabe 1/2018 Open Access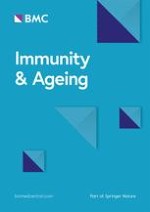 Immunosenescence and lymphomagenesis
Zeitschrift:
Autoren:

Salvatrice Mancuso, Melania Carlisi, Marco Santoro, Mariasanta Napolitano, Simona Raso, Sergio Siragusa
Abstract
One of the most important determinants of aging-related changes is a complex biological process emerged recently and called "immunosenescence". Immunosenescence refers to the inability of an aging immune system to produce an appropriate and effective response to challenge. This immune dysregulation may manifest as increased susceptibility to infection, cancer, autoimmune disease, and vaccine failure. At present, the relationship between immunosenescence and lymphoma in elderly patients is not defined in a satisfactory way.
This review presents a brief overview of the interplay between aging, cancer and lymphoma, and the key topic of immunosenescence is addressed in the context of two main lymphoma groups, namely Non Hodgkin Lymphoma (NHL) and Hodgkin Lymphoma (HL). Epstein Barr Virus (EBV) plays a central role in the onset of neoplastic lymphoproliferation associated with immunological changes in aging, although the pathophysiology varies vastly among different disease entities. The interaction between immune dysfunction, immunosenescence and Epstein Barr Virus (EBV) infection appears to differ between NHL and HL, as well as between NHL subtypes.