28.07.2017 | Original Article | Sonderheft 1/2018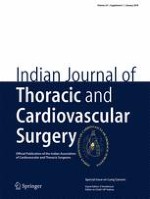 Immunotherapy for thoracic malignancies
Autoren:

Jordan Dozier, Navin Chintala, Prasad Adusumilli
Abstract
Purpose
Historically, thoracic malignancies, such as non-small cell lung cancer and malignant pleural mesothelioma, have been marked by poor prognosis. Current standard of care for these diseases results in limited improvements in survival benefit. This has prompted researchers to explore new and innovative treatment alternatives. Immunotherapy is an emerging therapeutic modality that harnesses the power of the human immune system against cancer cells. Herein, we summarize the concepts and current status of immunotherapy for the treatment of thoracic malignancies.
Methods
Using
ClinicalTrials.​gov
, we conducted a literature review using the terms "immunotherapy" and "immune therapy," and combined them with the conditions "pleural mesothelioma" and "carcinoma, non-small cell lung." The search results yielded 452 trials, among which 122 trials met our specific criteria.
Results
Our search identified immune checkpoint blockade, immunotoxin therapy, anticancer vaccines, and adoptive cell therapy as the most common and relevant immunotherapies that are currently being assessed in clinical trials.
Conclusion
We have highlighted the successes, as well as the limitations, of immunotherapy for non-small cell lung cancer and malignant pleural mesothelioma. We have identified early phase clinical trials that assess immunotherapy as first-line, second-line, and maintenance therapy, and compared these drugs as monotherapeutics or in combination with chemotherapy or other types of immunotherapy.