01.12.2017 | Review | Ausgabe 1/2017 Open Access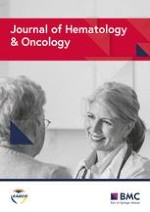 Immunotherapy in hematologic malignancies: past, present, and future
Zeitschrift:
Autoren:

Annie Im, Steven Z. Pavletic
Abbreviations
ALL
Acute lymphoblastic leukemia
BCMA
B cell maturation antigen
BiKE
Bispecific NK cell engager
BiTE
Bispecific T cell engager
CAR
Chimeric antigen receptor
CLL
Chronic lymphocytic leukemia
CRi
CR with incomplete count recovery
CRS
Cytokine release syndrome
CTLA-4
Cytotoxic T-lymphocyte-associated protein 4
FDA
United States Food and Drug Administration
GVHD
Graft-versus-host disease
HCT
Allogeneic hematopoietic stem cell transplantation
PD-L1
Programmed-death ligand 1
PFS
Progression-free survival
Background
The field of immunotherapy in cancer treatments has been accelerating over recent years and has entered the forefront as a leading area of ongoing research and promising therapies that have changed the treatment landscape for a variety of solid malignancies. Prior to its designation as the Science Breakthrough of the Year in 2013 [
1
], cancer immunotherapy was active in the treatment of hematologic malignancies. This review provides a broad overview of the past, present, and potential future of immunotherapy in hematologic malignancies.
The past (and present)
Those in the field of treating hematologic malignancies can boast utilizing one of the oldest forms of cancer immunotherapy: allogeneic hematopoietic stem cell transplantation (HCT). The first allogeneic transplant was performed in 1968 by E. Donnall Thomas, who would go on to win the Nobel Prize for being a pioneer in this technology and the father of stem cell transplantation. Although it has been referred to as "the chemotherapist's bluntest weapon" [
2
], as it indeed aims to eradicate the hematopoietic and immune systems of a patient, it is often the only curative option for many patients with hematologic malignancies. Moreover, with widening clinical indications and the use of alternative donors, its use only continues to increase [
3
]. In addition, allogeneic HCT has provided a model of immunotherapy in hematologic malignancies, offering invaluable information that can be used as the field moves forward. For example, we have learned about the sensitivity of hematologic malignancies to the "graft-versus-leukemia" or "graft-versus-tumor" effect, and thus, we know these are appropriate targets for immunotherapy [
4
,
5
]. This sensitivity has been demonstrated by several factors: (1) the efficacy of allogeneic transplant in chemo-refractory disease [
6
,
7
], (2) the use of donor lymphocyte infusions to treat relapse after transplant [
8
,
9
], and (3) the use of reduced-intensity or non-myeloablative conditioning regimens ("mini-transplant") [
10
], where the reliance of efficacy and disease eradication is primarily on the graft-versus-leukemia effect, with little contribution from high-dose chemotherapy.
The overall survival after allogeneic transplant has improved significantly over the past several decades [
11
], although this is mainly due to improvements in non-relapse mortality and advances in supportive care (treatment and prevention of infections or graft-versus-host disease (GVHD), for example) [
12
]. In addition, novel transplant strategies have been refined to overcome obstacles such as donor availability. For example, haploidentical donor transplant using post-transplant cyclophosphamide as GVHD prophylaxis has shown outcomes similar to matched unrelated donor transplants with lower risk of GVHD [
13
,
14
]. Strategies such as this have widened the applicability of allogeneic transplant and will impact the field of transplantation moving forward. Unfortunately, relapse of the underlying malignancy remains the most common cause of failure or death after transplant, underscoring the need to improve the way in which we are able to harness the immune system to treat hematologic malignancies and how far we still have to go to achieve cure. Nonetheless, we have learned, and continue to learn, immensely about the immune system in the treatment of hematologic malignancies from the evolving and advancing field of allogeneic HCT, which has helped to move the field of novel immunotherapies forward.
Novel aspects of hematologic malignancies
Although immunotherapy has shown success in a wide variety of cancers including many solid tumors, there are some unique features of hematologic malignancies in this setting that makes these cancers well poised as targets of immunotherapy [
15
]. First is the sensitivity to immune attack, as previously discussed. In addition, cells of the immune system and cells of the malignancy are in constant contact with each other within the hematopoietic system, making the environment conducive to constant immune surveillance. Moreover, since the cellular origins of the malignancy are those of the immune system, these malignant cells are immunostimulatory by their nature. Finally, for the purposes of research and being able to study the immune mechanisms in these malignancies, these malignancies are accessible and thus easy to sample, especially before and after treatment.
In contrast to these advantages, there are also some disadvantages that hematologic malignancies carry with them in this setting, related to these same factors. As mentioned, the cellular origins are the same between the malignancy and the immune system. Although this is in some ways advantageous, the disadvantage is that the malignant cells themselves may also be stimulated by the inflammatory response and cytokine milieu. Also, given that these cells are by their very nature exploitations of the normal immune system, we know that the normal immune response is at a deficit and may be hindered overall [
16
]. Finally, and importantly, the mechanisms by which the malignancies have achieved immune evasion are likely exceptional, given the close contact with normal immune cells as previously mentioned [
17
]. Thus, successful immune strategies have to be able to overcome these immune escape mechanisms.
This review will focus on five categories of immunotherapies in the treatment of hematologic malignancies in which there have been accelerating development, based on various strategies of harnessing the immune system. It should be noted that there is ongoing research and development of other novel strategies that may be entering the clinical arena in the near future.
The present
Conclusions
The future
The past and present have been extremely exciting times for immunotherapy in hematologic malignancies, but the future looks quite incredible and we are moving there quickly. Several goals are already on the horizon with ongoing research in these areas. For example, there is continuing development and refinement of antigen discovery and novel immunotherapies. We are also trying to broaden the availability of novel immunotherapies beyond just highly specialized centers. In addition, we are developing experience in the management of unique complications related to novel immunotherapies and establishing practice guidelines, which will be essential with broadening use. Moreover, it will be important to refine appropriate clinical endpoints and response assessments in studying these novel agents. Finally, combining immunotherapies is an exciting area of research that will likely further enhance our ability to harness the immune system to fight hematologic malignancies. What will be the best role for some of these novel immunotherapies, especially in the context of HCT? Are these best suited to be used as a bridge to HCT, to treat post-HCT relapse, or as a treatment in cases of transplant-ineligible patients or those without a donor? Our best hypothesis is that these novel therapies will be used as a complement to HCT with all of these clinical circumstances. Depending on many factors including durability of tumor response, a small possibility exists that novel therapies may even replace HCT in the future as a curative option for some hematologic malignancies, but for now, HCT remains as an essential therapeutic option, and combining HCT with novel therapies is a clear step in our future. Perhaps someday, the visions of both E. Donnall Thomas and Paul Ehrlich can synergize, where what has been described as the "chemotherapist's bluntest weapon" can be combined with novel immunotherapies to achieve what is truly the "magic bullet" for patients with hematologic malignancies.
Acknowledgements
Not applicable.
Availability of data and materials
Not applicable.
Authors' contributions
AI and SZP both contributed to the writing of the manuscript. Both authors read and approved the final manuscript.
Competing interests
The authors declare that they have no competing interests.
Consent for publication
Not applicable.
Ethics approval and consent to participate
Not applicable.
Publisher's Note
Springer Nature remains neutral with regard to jurisdictional claims in published maps and institutional affiliations.
Open Access
This article is distributed under the terms of the Creative Commons Attribution 4.0 International License (
http://​creativecommons.​org/​licenses/​by/​4.​0/​
), which permits unrestricted use, distribution, and reproduction in any medium, provided you give appropriate credit to the original author(s) and the source, provide a link to the Creative Commons license, and indicate if changes were made. The Creative Commons Public Domain Dedication waiver (
http://​creativecommons.​org/​publicdomain/​zero/​1.​0/​
) applies to the data made available in this article, unless otherwise stated.