27.05.2020 | Schwerpunkt: Nicht-zelluläre Immuntherapien in der Onkologie | Ausgabe 7/2020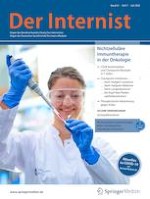 Immuntherapie bei Kopf-Hals-Plattenepithelkarzinomen
Abskopale Effekte in Kombination mit Radiotherapie, außergewöhnliche Reaktionen in Kombination mit Chemotherapie und Pseudoprogression
Zeitschrift:
Autoren:

N. Brix, L. Dunn, T. Seiwert, C. Belka, K. Lauber
Wichtige Hinweise
Der vorliegende Beitrag basiert auf der Publikation
Lauber K, Dunn L (2019) Immunotherapy mythbusters in head and neck cancer: The abscopal effect and pseudoprogression.
Am Soc Clin Oncol Educ Book 39:352–363
.
Zusammenfassung
Hintergrund
Das Therapieportfolio für rekurrente und/oder metastasierte Kopf-Hals-Plattenepithelkarzinome ("Head and neck squamous cell carcinoma" [HNSCC]) hat sich mit der klinischen Implementierung der Immuntherapie erweitert: Die einzige molekular zielgerichtete Therapieoption bis zum Jahr 2016 war die Epidermal-growth-factor-receptor(EGFR)-Blockade. Inzwischen ist jedoch die Immuncheckpointinhibition Teil der Erstlinientherapie beim rekurrenten oder metastasierten HNSCC.
Fragestellung
Untersucht wurde, inwieweit bei der Immuntherapie des HNSCC abskopale Effekte der Strahlentherapie, ausgeprägte Synergien mit Chemotherapie sowie Pseudoprogressionsphänomene auftreten.
Material und Methoden
Literaturrecherche unter Berücksichtigung aktueller klinischer Studien zur Immuntherapie von HNSCC wie auch präklinischer Arbeiten über die zugrunde liegenden biologischen Mechanismen.
Ergebnisse
Wie bei anderen Tumorentitäten bereits beobachtet, treten auch bei der Therapie des rekurrenten und/oder metastasierten HNSCC synergistische Effekte bei Kombination der Immuntherapie mit Radio- und/oder Chemotherapie in der Klinik auf. Ursächlich hierfür ist eine (Re‑)Aktivierung der körpereigenen Antitumorimmunantwort. In Einzelfällen tritt dies in der Bildgebung in Form einer Pseudoprogression in Erscheinung. Verlässliche Biomarker für die genannten Phänomene sind klinisch bisher nicht etabliert.
Schlussfolgerungen
Auch beim rekurrenten und/oder metastasierten HNSCC werden sich systemische Effekte der Radiochemoimmuntherapie in der Klinik mehren. Entsprechend wird die Suche nach Biomarkern für abskopale Effekte der Strahlentherapie und unerwartet starke Synergien mit Chemotherapeutika unter Immuntherapie sowie für Pseudoprogression an Bedeutung gewinnen.