19.05.2016 | Breast Oncology | Ausgabe 9/2016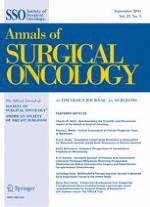 Impact of Age on Risk of Recurrence of Ductal Carcinoma In Situ: Outcomes of 2996 Women Treated with Breast-Conserving Surgery Over 30 Years
Zeitschrift:
Autoren:

MD Patricia A. Cronin, BS Cristina Olcese, PhD Sujata Patil, MD, FACS Monica Morrow, MS, MD, FACS Kimberly J. Van Zee
Wichtige Hinweise
Electronic supplementary material
The online version of this article (doi:
10.​1245/​s10434-016-5249-5
) contains supplementary material, which is available to authorized users.
This study was presented as a podium presentation at the 69th Society of Surgical Oncology Annual Cancer Symposium, Boston, MA, USA, 2–5 March 2016.
Abstract
Background
Age is a known risk factor for recurrence in women with ductal carcinoma in situ (DCIS) treated with breast-conserving surgery (BCS). We explored the relationship between age, other risk factors, and recurrence.
Methods
Using a prospectively maintained database of DCIS patients undergoing BCS from 1978 to 2010, the association of age and recurrence risk was analyzed using Kaplan–Meier estimates, multivariable analysis, and competing risk multivariable analysis.
Results
Overall, 2996 cases were identified. Median follow-up for those without recurrence was 75 months; 732 were followed for ≥10 years, and 363 (12 %) had recurrence [192 (53 %) DCIS, 160 (44 %) invasive, 11 (3 %) unknown]. Risk of recurrence decreased with age, even after adjustment for eight clinicopathologic variables on multivariable analysis [hazard ratios (HR), with <40 years of age as the reference: 40–49 years, 0.82 (
p
= 0.36), 50–59 years, 0.46 (
p
= 0.0005), 60–69 years, 0.50 (
p
= 0.003), 70–79 years, 0.56 (
p
= 0.02), ≥80 years, 0.21 (
p
= 0.0015)]. This association persisted for cohorts with and without radiation therapy. Using competing risk multivariable analysis, the effect of age on invasive recurrence was empirically stronger than for DCIS recurrence. Ten-year invasive recurrence was 16 and 6.5 % in women <40 years of age and women ≥40 years of age, respectively. Only 0.6 % of the population ultimately developed distant disease; those <40 years of age constituted 4.7 % (141/2996) of the population, but 21 % (4/19) of those developed distant disease.
Conclusions
The risk of recurrence of DCIS decreases with age. This effect is particularly strong at the extremes of age and is independent of other clinicopathologic factors. The oldest women are at low risk of recurrence, while the youngest women have a higher overall, and especially invasive, recurrence rate, although mortality remains low. These findings should be incorporated into risk/benefit discussions of treatment options.