09.01.2020 | Research Article | Ausgabe 9/2020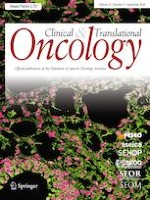 Impact of antibiotic use and other concomitant medications on the efficacy of immune checkpoint inhibitors in patients with advanced cancer
Zeitschrift:
Autor:

A. Iglesias-Santamaría
Wichtige Hinweise
Publisher's Note
Springer Nature remains neutral with regard to jurisdictional claims in published maps and institutional affiliations.
Abstract
Purpose
Recent evidences support a role of gut microbiota in influencing the efficacy of immune checkpoint inhibitors (ICI). The use of antibiotics (ATB) and other concomitant medications may impair the balance of microbiota and negatively affect the efficacy of immunotherapy.
Methods
Retrospective data analysis was performed on advanced cancer patients treated with ICI. Those receiving ATB within 4 weeks before or after initiating ICI were compared with those who did not. Likewise, those who received ATB (irrespective of time of onset) were compared with not exposed and was calculated the variable "ATB exposure" (AE) defined as the % "days of ATB/days of ICI". Use of proton pump inhibitors (PPIs), opioids and steroids was also evaluated.
Results
Of the 102 patients included, 60 (58.8%) received ATB during immunotherapy treatment (ATB+ group), and 33 (32.3%) received them between 4 weeks before or after starting ICI (ATB4+ group). Median AE of the ATB-treated patients was 11.1% (range 5.6–21.3). PFS and OS did not differ between ATB4+ and ATB4− group or between ATB+ group and not treated one. However, both PFS and OS were significantly lower in patients with a higher AE than the median one (3.1 vs. 8.2 months,
p
 = 0.007; 9.4 vs. 17.8 months,
p
 = 0.02, respectively). PPIs or steroids use did not affect clinical outcome of ICI but opioids use was significantly associated with lower PFS and OS (4.5 vs. 8.1 months,
p
 = 0.010; 8.6 vs. 26.3 months,
p
 < 0.001, respectively).
Conclusions
Cumulative ATB use, rather than simple use in a defined time frame, may impair the efficacy of immunotherapy. Opioids use was also associated with poorer outcomes in patients treated with ICI.