11.10.2019 | Translational Research and Biomarkers | Ausgabe 2/2020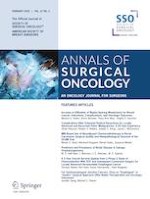 Impact of CD36 on Chemoresistance in Pancreatic Ductal Adenocarcinoma
Zeitschrift:
Autoren:

MD Masahiko Kubo, MD, PhD Kunihito Gotoh, MD, PhD Hidetoshi Eguchi, MD, PhD Shogo Kobayashi, MD, PhD Yoshifumi Iwagami, MD, PhD Yoshito Tomimaru, MD, PhD Hirofumi Akita, MD, PhD Tadafumi Asaoka, MD, PhD Takehiro Noda, MD, PhD Yutaka Takeda, MD, PhD Masahiro Tanemura, MD, PhD Masaki Mori, MD, PhD Yuichiro Doki
Wichtige Hinweise
Electronic supplementary material
Publisher's Note
Springer Nature remains neutral with regard to jurisdictional claims in published maps and institutional affiliations.
Abstract
Background
CD36, a multi-ligand scavenger receptor, has been associated with several cancers. Many studies have revealed that CD36 contributed to cancer malignancy. This study aimed to reveal the function of CD36 expression in pancreatic ductal adenocarcinoma (PDAC).
Methods
CD36 expression was characterized using immunohistochemistry in 95 clinical specimens resected from patients with PDAC. We divided patients into two groups, with different CD36 expression levels, and analyzed and compared their prognoses. CD36 expression was also assessed in PDAC cell lines. Gemcitabine-resistant (GR) PDAC cell lines were transfected with small interfering RNA (siRNA) that specifically targeted CD36 to evaluate chemoresistance and apoptosis.
Results
In resected PDAC samples, CD36 expression was significantly correlated with microinvasion into the venous system (
p
 = 0.0284). Patients with high CD36 expression had significantly lower overall survival (OS) and recurrence-free survival (RFS) rates than patients with low expression; thus, CD36 was an independent prognostic factor for OS and RFS. In subgroup analyses, CD36 was an independent risk factor for OS and RFS in 59 patients treated with gemcitabine adjuvant chemotherapy. CD36 expression was upregulated in PDAC–GR cell lines compared with the PDAC parent cell line. Transduction with siRNA downregulated CD36, which reduced PDAC cell resistance to gemcitabine and inhibited anti-apoptosis proteins.
Conclusion
CD36 expression influenced gemcitabine resistance by regulating anti-apoptosis proteins. High CD36 expression was a significant, unfavorable prognostic factor in PDAC. Anti-CD36 treatment might serve as an optional treatment for lowering resistance to gemcitabine.