28.01.2020 | Original Article | Ausgabe 3/2020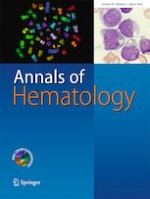 Impact of clinical features, cytogenetics, genetic mutations, and methylation dynamics of
CDKN2B

and

DLC-1

promoters on treatment response to azacitidine
Zeitschrift:
Autoren:

Iván Martín, Blanca Navarro, Alicia Serrano, Eva Villamón, Marisa Calabuig, Carlos Solano, Felipe Javier Chaves, Nuria Yagüe, Maribel Orts, Paula Amat, Azahara Fuentes, Enrique Seda, Francisca García, Juan Carlos Hernández-Boluda, Mar Tormo
Wichtige Hinweise
Electronic supplementary material
Juan Carlos Hernández-Boluda and Mar Tormo contributed equally to this work.
Publisher's note
Springer Nature remains neutral with regard to jurisdictional claims in published maps and institutional affiliations.
Abstract
Azacitidine (AZA) is a DNA hypomethylation agent administered in myeloid neoplasms; however, there is still a lack of established predictors of response. We studied 113 patients with myelodysplastic syndromes (
n
 = 85) or acute myeloid leukemia (
n
 = 28) who received AZA to assess the predictive value on response of clinical features, cytogenetics, and molecular markers. Overall, 46 patients (41%) responded to AZA. Platelet doubling after the first AZA cycle was associated with a better response (68% vs. 32% responders,
P
 = 0.041). Co-occurrence of chromosome 7 abnormalities and 17p deletion was associated with a worse response (
P
 = 0.039). Pre-treatment genetic mutations were detected in 98 patients (87%) and methylation of
CDKN2B
and
DLC-1
promoters were detected in 50 (44%) and 37 patients (33%), respectively. Patients with
SF3B1
mutations showed a better response to AZA (68% vs. 35% responders,
P
 = 0.008). In contrast, subjects with mutations in transcription factors (
RUNX1
,
SETBP1
,
NPM1
) showed a worse response (20% vs. 47% responders,
P
 = 0.014).
DLC-1
methylation pre-treatment was associated with poor clinical features and its reduction post-treatment resulted in a better response to AZA in MDS patients (
P
 = 0.037). In conclusion, we have identified several predictors of response to AZA that could help select the best candidates for this treatment.