05.07.2018 | Gastrointestinal Oncology | Ausgabe 11/2018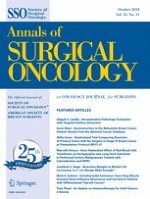 Impact of Combination Chemotherapy in Peritoneal Mesothelioma Hyperthermic Intraperitoneal Chemotherapy (HIPEC): The RENAPE Study
Zeitschrift:
Autoren:

MD, MSc Brice Malgras, MD, PhD Etienne Gayat, MD Olivier Aoun, MD, PhD Réa Lo Dico, MD, PhD Clarisse Eveno, MD Karine Pautrat, MD, MSc Jean-Baptiste Delhorme, MD, PhD Guillaume Passot, MD, PhD Frédéric Marchal, MD, PhD Olivia Sgarbura, MD, PhD Gwenael Ferron, MD, PhD Diane Goéré, MD, PhD Thierry Andre, MD, PhD Marc Pocard, on behalf of the RENAPE Network
Wichtige Hinweise
Electronic supplementary material
Collaborators [RENAPE - French National Network of Peritoneal Surface Malignancies] are listed at the end of the manuscript (in the Acknowledgements).
Abstract
Background
The introduction of cytoreductive surgery (CRS) in combination with hyperthermic intraperitoneal chemotherapy (HIPEC) improved the prognosis of selected patients with peritoneal mesothelioma (PM).
Objective
The objective of our study was to evaluate whether different HIPEC agents were associated with different outcomes in patients with PM.
Methods
From the RENAPE database, we selected all patients with histology-proven PM who underwent CRS + HIPEC from 1989 to 2014. Inclusion criteria were age ≤ 80 years, performance status ≤ 2, and no extraperitoneal metastases.
Results
Overall, 249 patients underwent CRS + HIPEC for PM. The HIPEC regimen included five chemotherapeutic agents (CAs), consisting of cisplatin, doxorubicin, mitomycin-C, oxaliplatin, and irinotecan. When considering all CAs (alone or in combination), there was no significant statistical difference in regard to postoperative overall survival (OS). However, OS was better when using two CAs (group 2 drugs) versus one CA (group 1 drug) (
p
 = 0.03). The different CA regimens were equally distributed between the two groups. This association between OS and HIPEC agent, as well as a trend for better progression-free survival, were both observed in the two-drug group versus the one-drug group (
p
 = 0.009) for patients undergoing complete cytoreductive surgery (CC-0) with an epithelioid subtype.
Conclusions
This large study seems to show improved OS when combined CAs, especially with platinum-based regimens, are used for HIPEC in patients with PM, but needs to be confirmed by a randomized controlled trial.