28.01.2020 | Article | Ausgabe 5/2020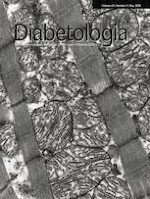 Impact of diabetes on colorectal cancer stage and mortality risk: a population-based cohort study
Zeitschrift:
Autoren:

Judy K. Qiang, Rinku Sutradhar, Vasily Giannakeas, Dominika Bhatia, Simron Singh, Lorraine L. Lipscombe
Wichtige Hinweise
Electronic supplementary material
Publisher's note
Springer Nature remains neutral with regard to jurisdictional claims in published maps and institutional affiliations.
Abstract
Aims/hypothesis
Diabetes is associated with an increased incidence of colorectal cancer (CRC). There exists conflicting evidence regarding the impact of diabetes on CRC-specific mortality (herein also referred to as cancer-specific mortality). The objectives of this study were to determine whether diabetes is associated with a more advanced CRC stage at diagnosis and with higher all-cause and cancer-specific mortality.
Methods
This retrospective cohort study used linked, population-based health databases from Ontario, Canada. Among individuals diagnosed with CRC from 2007 to 2015, we compared the likelihood of presenting with later- (III or IV) vs early- (I or II) stage CRC between patients with and without diabetes adjusting for relevant covariates. We then determined the association between diabetes and all-cause and CRC-specific mortality, after adjusting for CRC stage at diagnosis and other covariates.
Results
Of the 44,178 individuals with CRC, 11,822 (26.7%) had diabetes. After adjustment for CRC screening and other covariates, individuals with diabetes were not more likely to present with later-stage CRC (adjusted OR 0.97, 95% CI 0.93, 1.01). Over a median follow-up of 2.63 (interquartile range [IQR] 0.97–5.10) years, diabetes was associated with higher all-cause mortality (adjusted HR 1.08, 95% CI 1.04, 1.12) but similar cancer-specific survival (adjusted HR 1.0, 95% CI 0.95, 1.06).
Conclusions/interpretation
Individuals with diabetes who develop CRC are not more likely to present with a later stage of CRC and have similar cancer-specific mortality compared with those without diabetes. Diabetes was associated with higher all-cause mortality in CRC patients, indicating that greater attention to non-cancer care is needed for CRC survivors with diabetes.