01.12.2018 | Research article | Ausgabe 1/2018 Open Access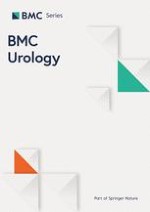 Impact of early changes in serum biomarkers following androgen deprivation therapy on clinical outcomes in metastatic hormone-sensitive prostate cancer
Zeitschrift:
Autoren:

Hiromi Sato, Shintaro Narita, Norihiko Tsuchiya, Atsushi Koizumi, Taketoshi Nara, Sohei Kanda, Kazuyuki Numakura, Hiroshi Tsuruta, Atsushi Maeno, Mitsuru Saito, Takamitsu Inoue, Shigeru Satoh, Kyoko Nomura, Tomonori Habuchi
Abstract
Background
Less evidence is known about the role of early changes in serum biomarker after androgen deprivation therapy (ADT) in patients with metastatic hormone-sensitive prostate cancer (mHSPC). Here we evaluated the impact of pre-treatment prognostic factors and early changes in serum biomarkers on prostate specific antigen (PSA) progression-free and overall survival rates in mHSPC.
Methods
We retrospectively reviewed the medical records of 60 mHSPC patients (median age 72 years) treated with ADT whose laboratory data at baseline and following 12 weeks were available.
Results
Forty-four patients (73%) had PSA progression and 27 patients (45.0%) died during a median follow-up of 34 months. The multivariable Cox hazard model demonstrated that a log-transformed baseline PSA level (
p
 = 0.003) and an extent of bone disease (EOD) score of ≥3 (
p
 = 0.004) were statistically associated with an increased risk for PSA progression whereas one unit increase in a log-transformed PSA change (baseline-12 weeks) was associated with a decreased risk for PSA progression (
p
 = 0.004). For overall survival, a high level of alkaline phosphatase (ALP) at 12 weeks was associated with increased risk (
p
 = 0.030) whereas a one-unit increase in the log-transformed PSA change was associated with decreased risk (
p
 = 0.001).
Conclusions
An increased level of PSA at baseline, or an EOD score of ≥3 may be a good predictor of PSA progression, and a high level of ALP at 12 weeks may be a risk predictor of death. A larger decline in PSA at 12 weeks from the baseline was associated with both PSA progression-free and overall survival time. Early changes in serum biomarkers may be useful in predicting poor outcomes in patients with mHSPC who are initially treated with ADT.