01.03.2012 | Short Communication | Ausgabe 3/2012 Open Access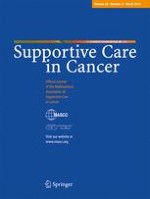 Impact of febrile neutropenia on R-CHOP chemotherapy delivery and hospitalizations among patients with diffuse large B-cell lymphoma
Zeitschrift:
Autoren:

Ruth Pettengell, Hans E. Johnson, Pieternella J. Lugtenburg, Antonio Salar Silvestre, Ulrich Dührsen, Francesca G. Rossi, Matthias Schwenkglenks, Kate Bendall, Zsolt Szabo, Ulrich Jaeger
Abstract
Purpose
This analysis from an observational study of clinical practice describes the impact of febrile neutropenia (FN) on chemotherapy delivery and hospitalizations.
Methods
Adults with diffuse large B-cell lymphoma (DLBCL) scheduled to receive ≥3 cycles of 2- or 3-weekly CHOP with rituximab (R-CHOP-14/21) were eligible. Primary outcome was incidence of FN.
Results
FN data were available for 409 patients receiving R-CHOP-14 and 702 patients receiving R-CHOP-21. FN incidence was R-CHOP-14, 20% (81/409) and R-CHOP-21, 19% (133/702). Rates of primary prophylaxis with granulocyte-colony stimulating factor were R-CHOP-14, 84% (345/409) and R-CHOP-21, 36% (252/702). A large number of patients experienced their first FN episode in cycle 1 (R-CHOP-14, 24/81 [30%]; R-CHOP-21, 63/133 [47%]). Multiple risk factors (≥2) for FN were more frequent in patients experiencing FN than in patients not experiencing FN (R-CHOP-14, 60/81 [74%] versus 179/328 [55%]; R-CHOP-21, 98/133 [74%] versus 339/569 [60%]). A similar trend was observed for unplanned hospitalizations (R-CHOP-14, 63/81 [78%] versus 68/328 [21%]; R-CHOP-21, 105/133 [79%] versus 100/569 [18%]). Achievement of chemotherapy relative dose intensity ≥90% was lower among patients experiencing FN than in patients not experiencing FN (R-CHOP-14, 30/81 [37%] versus 234/328 [71%]; R-CHOP-21, 83/133 [62%] versus 434/569 [76%]).
Conclusions
In patients with DLBCL treated with R-CHOP-14 or R-CHOP-21, patients with an event of FN were more likely to experience suboptimal chemotherapy delivery and increased incidence of unplanned hospitalizations than those without FN. FN-related hospitalizations are likely to impact chemotherapy delivery and to incur substantial costs.