01.12.2017 | Research | Ausgabe 1/2017 Open Access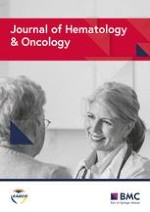 Impact of in vivo T cell depletion in HLA-identical allogeneic stem cell transplantation for acute myeloid leukemia in first complete remission conditioned with a fludarabine iv-busulfan myeloablative regimen: a report from the EBMT Acute Leukemia Working Party
Zeitschrift:
Autoren:

Marie Thérèse Rubio, Maud D'Aveni-Piney, Myriam Labopin, Rose-Marie Hamladji, Miguel A. Sanz, Didier Blaise, Hakan Ozdogu, Etienne Daguindeau, Carlos Richard, Stella Santarone, Giuseppe Irrera, Ibrahim Yakoub-Agha, Moshe Yeshurun, Jose L. Diez-Martin, Mohamad Mohty, Bipin N Savani, Arnon Nagler
Wichtige Hinweise
Electronic supplementary material
The online version of this article (doi:
10.​1186/​s13045-016-0389-4
) contains supplementary material, which is available to authorized users.
Abbreviations
aGVHD
Acute graft-versus-host disease
allo-SCT
Allogeneic hematopoietic stem cell transplantation
cGVHD
Chronic graft-versus-host disease
Flu-ivBu4
Fludarabine and 4 days intravenous busulfan
GRFS
GVHD and relapse-free survival
MAC
Myeloablative conditioning
PBSC
Peripheral blood stem cells
RTC
Reduced toxicity conditioning
Background
Allogeneic hematopoietic stem cell transplantation (allo-SCT) with myeloablative conditioning (MAC) regimen remains the treatment of choice for intermediate or poor-risk acute myeloid leukemia (AML) in first complete remission (CR1) [
1
]. The standard conditioning regimen including myeloablative dose of intravenous (iv) busulfan and cyclophosphamide is however associated with substantial toxicities in adults above 40 years of age [
2
]. The association of fludarabine to myeloablative dose of iv busulfan (Flu-ivBu4), developed in the past two decades, has been shown to preserve significant anti-leukemic activity with reduced toxicity mortality in both retrospective [
3
–
8
] and prospective randomized studies [
9
,
10
], in particular, in adults above 40 years. This so-called reduced toxicity conditioning (RTC) regimen is therefore being widely used in allo-SCT for patients with AML in CR1.
The Flu-ivBu 4 regimen is usually performed with peripheral blood stem cells (PBSC) to favor engraftment and enhance the graft-versus-leukemia (GVL) effect [
11
,
12
]. However, use of PBSC from HLA-matched related (MRD) or unrelated (MUD) donors with MAC increases the risk of chronic graft-versus-host disease (cGVHD) [
11
–
13
]. Prospective randomized studies have shown that in vivo T cell depletion with anti-thymocyte globulin (ATG) reduces the incidence of cGVHD without increasing the risk of relapse in allo-SCT performed with PBSC from MRD or MUD after conventional cyclophosphamide-based MAC regimens for AML [
14
–
16
]. These results raise the question of the impact of use of ATG in the Flu-ivBu4 RTC, in which the balance between the GVH and GVL effects of allo-SCT might be more sensitive to T cell depletion. Very scarce data exist on the potential effect of ATG in this transplant context. Russel et al. reported reduced non-relapse mortality (NRM) due to lower incidence of cGVHD in a retrospective study of patients transplanted with MRD after Flu-Bu-based MAC and ATG compared to conventional cyclophosphamide-based MAC without ATG but a trend towards higher relapse incidence [
17
]. A Korean study comparing the outcomes of 16 patients receiving Flu-ivBu for 3 or 4 days and ATG to 45 patients receiving the same type of conditioning without ATG for various hematological malignancies transplanted with MRD did not observe any benefit of adding ATG, with also concerns about its possible negative impact on relapse [
18
]. Heterogeneity in terms of conditioning between groups or of types of disease limits the interpretation of these data. With the objective to explore the impact of the use of ATG in the Flu-ivBu4 RTC, we chose to retrospectively analyze a cohort of 566 adult patients given hematopoietic stem cells from HLA-identical sibling donors for AML in CR1 following Flu-ivBu4 conditioning regimen. In this homogeneous cohort of patients, we compared post-transplant outcomes of 145 of those who received ATG for GVHD prophylaxis to the 421 patients who did not.
Methods
Study design and data collection
This is a retrospective multicenter analysis using the data set of the Acute Leukemia Working Party (ALWP) of the European Society of Blood and Marrow Transplantation (EBMT) group registry. The EBMT is a voluntary working group of more than 500 transplant centers that are required to report all consecutive stem cell transplantations and follow-ups once a year. Audits are routinely performed to determine the accuracy of the data. The study was planned and approved by the ALWP of the EBMT. In addition, the study protocol was approved by the institutional review board at each site and complied with country-specific regulatory requirements. The study was conducted in accordance with the Declaration of Helsinki and Good Clinical Practice guidelines. Since 1990, patients provide informed consent authorizing the use of their personal information for research purposes. Eligibility criteria for this analysis included adult patients above 18 years of age with AML who underwent a first allo-SCT from an HLA-matched related donor following fludarabine and 4 days of intravenous busulfan (Flu-ivBu4) regimen between 2006 and 2013. Exclusion criteria were previous allogeneic or cord blood transplantation and ex vivo T cell-depleted stem cell graft. Variables collected included recipient and donor characteristics (age, gender, CMV serostatus), disease characteristics and status at transplant, year of transplantation and interval from diagnosis to transplantation, transplant-related factors including conditioning regimen, use and dose of thymoglobulin as pre-transplant in vivo T cell depletion, stem cell source (bone marrow (BM) or peripheral blood (PB)), post-transplant GVHD prophylaxis. GVHD prophylaxis regimens were dependent on centers' protocols. Grading of acute GVHD was performed using established criteria [
19
]. Chronic GVHD was classified as limited or extensive according to published criteria [
20
]. For the purpose of this study, all necessary data were collected according to the EBMT guidelines, using the EBMT minimum essential data forms. The list of institutions reporting data included in this study is provided in the supplemental data (Additional file
1
: Table S1).
Statistical analysis
Study end points were engraftment, incidences and severity of acute and chronic GVHD, incidence of primary disease relapse (RI), NRM, leukemia-free survival (LFS), overall survival (OS), and GVHD and relapse-free survival (GRFS). Start time was date of transplant for all end points. LFS was defined as survival without relapse or progression, NRM as death without relapse/progression, and GRFS as survival with no evidence of relapse/progression, grade III to IV acute graft-versus-host disease (aGVHD), or severe cGVHD as defined by Ruggeri et al. for registry-based studies [
21
]. Cumulative incidence functions (CIF) were used to estimate RI and NRM in a competing risk setting, because death and relapse compete with each other. For estimating the cumulative incidence of chronic GVHD, we considered relapse and death to be competing events. Groups were compared by the chi-square method for qualitative variables, whereas the Mann-Whitney test was applied for continuous parameters. Univariate comparisons were done using the log-rank test for OS, LFS, and GRFS and the Gray's test for RI, NRM, and GVHD cumulative incidences. Multivariate analyses were performed using Cox proportional hazards model for all end points. Factors differing in terms of distribution between the groups and all factors known as potentially risk factors were included in the final model. In order to test for a center effect, we introduced a random effect or frailty for each center into the model [
22
]. All tests were two-sided. The type I error rate was fixed at 0.05 for the determination of factors associated with time to event outcomes. Statistical analyses were performed with SPSS 22.0 (IBM Corp., Armonk, NY, USA) and R 3.2.3 software packages (R Development Core Team, Vienna, Austria).
Results
Discussion
Conclusions
We recognize that this study has several limitations, mainly because of its retrospective aspect and that the reason for the choice of GVHD prophylaxis was not known but mainly dependent on the center's protocols. However, the study was performed on a homogeneous cohort of AML patients transplanted in CR1 with HLA-identical sibling donors following a Flu-ivBu4 RTC. Despite these limitations, the results of this study suggest that, in this particular setting, an intermediate dose of ATG improves the composite end point severe GVHD and relapse-free survival by reducing the incidence of overall and chronic GVHD without affecting the long-term anti-leukemic effect. These results should be confirmed in a well-designed phase III randomized trial.
Acknowledgements
Not applicable.
Availability of data and materials
ML, MM, and AN had full access to all the data in the study (available upon data specific request).
Authors' contributions
MTR, BNS, ML, and AN designed the research and/or analyzed data. RMH, MAS, DB, HO, ED, CRE, SS, GI, IYA, MY, and JLDM provided the clinical data. MTR, MD, BNS, ML, and AN wrote the manuscript, and all authors approved the final version of the manuscript. A complete list of contributors, as well as members of the European Blood and Marrow Transplantation Group, appears on the online data supplement. MTR, MDP, BNS, MM ,and AN had final responsibility for the decision to submit for publication.
Competing interests
The authors declare that they have no competing interests.
Consent for publication
Not applicable.
Ethics approval and consent to participate
The study protocol was approved by the institutional review board at each site and complied with country-specific regulatory requirements. The study was conducted in accordance with the Declaration of Helsinki and Good Clinical Practice guidelines. Patients provide informed consent authorizing the use of their personal information for research purposes.
Open Access
This article is distributed under the terms of the Creative Commons Attribution 4.0 International License (
http://​creativecommons.​org/​licenses/​by/​4.​0/​
), which permits unrestricted use, distribution, and reproduction in any medium, provided you give appropriate credit to the original author(s) and the source, provide a link to the Creative Commons license, and indicate if changes were made. The Creative Commons Public Domain Dedication waiver (
http://​creativecommons.​org/​publicdomain/​zero/​1.​0/​
) applies to the data made available in this article, unless otherwise stated.