04.01.2021 | Original Article | Ausgabe 2/2021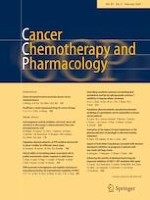 Impact of interstitial lung disease associated with immune checkpoint inhibitors on prognosis in patients with non-small-cell lung cancer
Zeitschrift:
Autoren:

Akira Yamagata, Toshihide Yokoyama, Yasushi Fukuda, Tadashi Ishida
Wichtige Hinweise
Publisher's Note
Springer Nature remains neutral with regard to jurisdictional claims in published maps and institutional affiliations.
Abstract
Purpose
Immune checkpoint inhibitor-associated interstitial lung disease (ICI-ILD) is a serious immune-related adverse event. We aimed to evaluate the impact of ICI-ILD severity and imaging patterns or post-ILD cancer therapy on prognosis in patients with non-small-cell lung cancer (NSCLC).
Methods
We retrospectively analysed NSCLC patients who developed ICI-ILD in our institution between January 2016 and March 2019. The primary objective was to report prognosis following onset of ICI-ILD, stratified by severity grade or imaging pattern. The secondary objective was the analysis of cancer therapy after ICI-ILD.
Results
Among 222 patients treated with ICI, 27 (12.2%) developed ICI-ILD. No trend for different prognosis depending on severity grade was seen unless ICI-ILD was fatal. Most patients (91.3%) with organising pneumonia (OP) or nonspecific interstitial pneumonia pattern on imaging showed grade 1 or 2, while all patients with a diffuse alveolar damage (DAD) pattern showed grade 3 or higher, and one reached grade 5. Among patients who overcame ICI-ILD, eight patients (30.8%) have been followed up without chemotherapy because of long-term disease control and seven had shown an OP pattern on imaging at onset of ICI-ILD. Three patients underwent ICI rechallenge, but two showed ICI-ILD recurrence and no patient achieved response to rechallenge treatment.
Conclusion
The DAD pattern may predict short-term adverse prognosis for ICI-ILD. Once ICI-ILD is overcome, severity grade is not associated with prognosis. Even if initial immunotherapy proves effective, ICI rechallenge requires careful consideration.