01.12.2017 | Research article | Ausgabe 1/2017 Open Access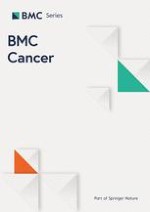 Impact of lymphovascular invasion on lymph node metastasis for patients undergoing radical prostatectomy with negative resection margin
Zeitschrift:
Autoren:

Yong Jin Kang, Hyun-Soo Kim, Won Sik Jang, Jong Kyou Kwon, Cheol Yong Yoon, Joo Yong Lee, Kang Su Cho, Won Sik Ham, Young Deuk Choi
Wichtige Hinweise
Electronic supplementary material
The online version of this article (doi:
10.​1186/​s12885-017-3307-4
) contains supplementary material, which is available to authorized users.
Abbreviations
PSA
Prostate-specific antigen
Background
The association between lymphovascular invasion and lymphatic or hematogenous metastasis has been suspected since 1994, when the College of American Pathologists recommended to routinely report lymphovascular invasion (LVI) for radical prostatectomy specimens; however, current evidence remains controversial [
1
–
5
]. There are several factors that make it difficult for LVI to establish its value as an independent prognostic factor for recurrence. Definitions of LVI vary from author to author, and there are issues of overdetection with artifacts, all of which contribute to the confusion regarding this particular pathologic finding [
6
]. In other malignancies, such as thyroid [
7
], lung [
8
], stomach [
9
], bladder [
10
], kidney [
11
], and breast cancers [
12
], LVI is considered as an independent prognostic factor. Regarding the prostate, despite the unclear prognostic value of LVI in prior studies conducted in the general population, more recent investigations of patients in particular stages show some promising aspects [
1
,
13
,
14
]. Although the migration of cancer cells into vessels is generally regarded as a necessary early step for nodal or distant metastasis in other cancers, evidence remains scarce for the prostate cancer [
2
,
15
].
Under the hypothesis that LVI is associated with increased risk of recurrence by accelerating lymph node metastasis, we have analyzed the association between LVI and risk of biochemical recurrence (BCR) according to pathologic T stage and resection margin status, as well as its influence on the risk of lymph node metastasis.
Methods
Patient population
With approval from the institutional review board (protocol number 4–2015-0829), data were collected by reviewing medical charts in a retrospective fashion. 1634 patients who underwent the nerve-sparing radical prostatectomy by a single surgeon (Y.D.C.) at our hospital from 2005 to 2014 were selected. Informed consent from the participants was waived by the institutional review board. Patients with distant organ or bone metastasis prior to the operation (
n
= 33) or missing records (
n
= 1) were considered not appropriate for analysis leaving 1600 patients in the cohort.
Histopathologic examination
LVI was assessed by a single board-certified pathologist on all available hematoxylin and eosin-stained slides. LVI was defined as the invasion of vessel walls by tumor cells and/or the presence of tumor emboli within a definite endothelial-lined space, at a distance from tumors, or in the prostatic parenchyma surrounding the tumor. No attempt was made to distinguish between blood vessels and lymphatics due to the difficulty and lack of reproducibility. Only definite LVI was regarded as positive, whereas equivocal or suspected LVI (tumor emboli observed in a space with the appearance of a vessel but without a recognizable endothelial lining) was regarded as negative and considered artifacts due to peritumoral edema and tissue shrinkage (Fig.
1
). Based on previous data showing that the use of immunohistochemical markers for vascular and lymphatic channels did not improve interobserver agreement in diagnosis of LVI [
16
], we did not perform immunohistochemical staining to determine the presence or absence of LVI. Bilateral pelvic lymph node dissection was performed at the time of radical prostatectomy by the operating surgeon's decision. Lymph node metastasis was confirmed according to the final pathologic report.
×
Postoperative follow-up
A patient was considered to have reached BCR when the postoperative prostate-specific antigen (PSA) level of 0.2 ng/mL above the nadir was detected after a nadir PSA value of 0.1 ng/mL was reached. Regional recurrence or distant organ metastasis detected on radiologic images were considered as BCR events.
Radiologic examination
Annual or bi-annual postoperative follow-up with abdomen-pelvis computed tomography (CT) was done to detect unsuspected metastasis. Postoperatively developed lymph node enlargements were counted as a part of distant organ metastasis. Patients with BCR or relevant symptoms were screened for brain, lung, and bone metastasis with whole body positron emission CT, chest CT, and bone scintigraphy. Determination of distant organ or bone metastasis was done based on the official reading by institutional radiologists. Equivocal cases were confirmed with following positron emission tomography– CT using Fluorine-18 radiotracer or pelvis magnetic resonance image. Time to metastasis was determined as the duration from the operation date to the date of radiologic study with a first identifiable metastatic lesion.
Statistical analysis
The Kaplan-Meier method was used to plot survival functions, and differences were assessed with the pairwise log rank test. Multivariate survival analysis for BCR was performed by constructing Cox proportional hazard regression models. Odds for lymph node metastasis were analyzed with Logistic regression. All statistical analyses were performed using Statistical Package for Social Sciences v.22.0 for Windows (SPSS, Chicago, Illinois). A
p
-value <0.05 was considered statistically significant in the current study.
Results
Discussion
Conclusion
LVI increased the risk of recurrence in T3 patients independent of margin status. With its close association to lymph node metastasis, occult metastasis via lymphatic channel should be suspected in patients with LVI.
Acknowledgements
Not applicable.
Funding
There was no funding provided in the current research.
Availability of data and materials
All data generated or analyzed during this study are included in this published article [and its supplementary information files].
Authors' contributions
YJK and YDC contributed in conception of the study. YJK and HSK contributed in interpretation of the patient data and writing of the manuscript. WSJ, JKK, CYY, JYL, and WSH performed the statistical analyses of collected data. YJK, KSC and YDC contributed in conception and interpretation of the results. All authors read and approved the final manuscript.
Competing interests
There are no competing interests in conducting the current research.
Consent for publication
Not applicable.
Ethics approval and consent to participate
The current research was approved from the Severance hospital institutional review board (protocol number 4–2015-0829). Informed consent from the participants was waived by the institutional review board as the current study satisfied all of the following requirements for the waiver of informed consent:
The research involved no more than minimal risk to the participants (retrospective data analysis of previously collected medical records).

The waiver did not adversely affect the rights and welfare of the participants.

The research could not practicably be carried out without the waiver

The participants were provided relevant information afterwards when necessary.

The research was not subject to MFDS-FDA regulation.
Publisher's Note
Springer Nature remains neutral with regard to jurisdictional claims in published maps and institutional affiliations.
Open Access
This article is distributed under the terms of the Creative Commons Attribution 4.0 International License (
http://​creativecommons.​org/​licenses/​by/​4.​0/​
), which permits unrestricted use, distribution, and reproduction in any medium, provided you give appropriate credit to the original author(s) and the source, provide a link to the Creative Commons license, and indicate if changes were made. The Creative Commons Public Domain Dedication waiver (
http://​creativecommons.​org/​publicdomain/​zero/​1.​0/​
) applies to the data made available in this article, unless otherwise stated.