01.09.2009 | Original Article | Ausgabe 5/2009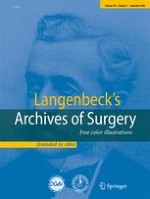 Impact of modern techniques on short-term outcome after surgery for primary hyperparathyroidism: a multicenter study comprising 2,708 patients
Zeitschrift:
Autoren:

Anders O. J. Bergenfelz, Svante K. G. Jansson, Göran K. Wallin, Hans G. Mårtensson, Lars Rasmussen, Håkan L. O. Eriksson, Eva I. M. Reihnér
Wichtige Hinweise
Presented at the XVI meeting of the European Surgical Association Vienna, April 17–18th, 2009
All authors are members of the Steering Committee of the Scandinavian Quality Register for Thyroid and Parathyroid Surgery
Abstract
Purpose
Preoperative localization procedures and the use of intraoperative parathyroidism (iOPTH) have led to a shift of paradigm from bilateral neck exploration to focused parathyroidectomy in primary hyperparathyroidism (pHPT). However, only a small number of randomized trials from specialized centers have been published. The main purpose of the study was to analyze the impact of localization procedures and iOPTH on short-term outcome after pHPT surgery in a multi-institutional setting.
Methods
An audit for quality assurance in pHPT surgery was performed in 23 Scandinavian departments in 2004–2008. Data were gathered prospectively in a database. Two thousand seven hundred and eight patients were registered and 78% were females. The median serum calcium level was 2.79 mmol/l.
Results
Localization procedures were performed in 1,831 patients (68%), (sestamibi in 54% and ultrasound in 41%) and iOPTH in 792 operations (29%). Bilateral exploration was performed in 61%, focused parathyroidectomy in 17%, and unilateral exploration in 22%. Histology showed parathyroid adenoma in 82%, with the median weight of 0.6 g. The alleviation of hypercalcemia at the first follow-up was 93% (94% for primary operation). In the multivariate logistic regression analysis, iOPTH increased cure rate (OR 1.70, 95% CI 1.14–2.53,
p
 = 0.0092). The risk for postoperative medically treated hypocalcemia decreased with the use of localization procedures (OR 0.56, 95% CI 0.43–0.78,
p
 = 0.0004) and iOPTH (OR 0.56, 95% CI 0.39–0.90,
p
 = 0.0015).
Conclusions
Localization procedures and iOPTH decreased the risk for hypocalcemia after pHPT surgery. Additionally, iOPTH influenced short-term cure rate favorably.