01.12.2017 | Research | Ausgabe 1/2017 Open Access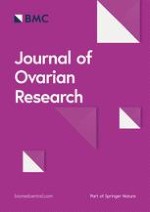 Impact of oocytes with CLCG on ICSI outcomes and their potential relation to pesticide exposure
Zeitschrift:
Autoren:

Philippe Merviel, Rosalie Cabry, Karen Chardon, Elodie Haraux, Florence Scheffler, Naima-belhadri Mansouri, Aviva Devaux, Hikmat Chahine, Véronique Bach, Henri Copin, Moncef Benkhalifa
Abstract
Background
Oocyte quality is a key limiting factor in female fertility which is primarily reflected in morphological features. Centrally located cytoplasm granulation (CLCG) is one type of cytoplasmic dimorphism exhibited by oocytes that could be linked to pesticide exposure with a significant risk of decreased ICSI outcomes.
Methods
This retrospective study included 633 women who were part of an intracytoplasmic spermatozoa injection (ICSI) program between 2009 and 2011. The participants lived in the Picardy region of France and had been exposed to pesticides. The participants were divided in two groups based on prevalence of oocytes with CLCG (LCLCG [
n
= 83]: low prevalence of oocytes with CLCG under 25%. HCLCG [
n
= 68]: high prevalence of CLCG over 75%). The embryological and clinical outcomes were analysed for both groups and were calculated using the difference between the two values.
Results
Results for couples with HCLCG compared to LCLCG showed a decrease in embryo cleavage, ongoing pregnancy, and live birth rates (82%, 14%, 13% vs 99%, 32%, 30%, respectively).The early miscarriage rate was increased (47% vs 11%), with an OR of 3.1 (95%CI [2.1–4.1]). Due to high pesticide exposure (over 3000 g/ha), there is a higher risk of a resulting disturbed oocyte cohort with a high prevalence of CLCG over 75%.
Conclusion
The high prevalence of oocytes with CLCG over 75% has a negative effect on embryos and the general ICSI clinical outcomes. Furthermore, a putative association between pesticide exposure and risk of CLCG was identified, justifying the need for further research and a potential need to find alternative assisted reproductive technologies for these couples.