30.05.2019 | Gynecologic Oncology | Ausgabe 9/2019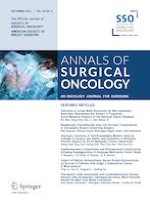 Impact of Radical Hysterectomy Versus Simple Hysterectomy on Survival of Patients with Stage 2 Endometrial Cancer: A Meta-analysis
Zeitschrift:
Autoren:

MD Ting Liu, MD Hua Tu, MD Yongxue Li, MD Zhimin Liu, MD Guochen Liu, MD Haifeng Gu
Wichtige Hinweise
Electronic supplementary material
Ting Liu, Hua Tu, and Yongxue Li have contributed equally to this work.
Publisher's Note
Springer Nature remains neutral with regard to jurisdictional claims in published maps and institutional affiliations.
Abstract
Background
The strategy of radical surgery for stage 2 endometrial cancer (EC) remains controversial. This meta-analysis aimed to investigate the impact of radical hysterectomy (RH) versus simple hysterectomy (SH) on survival of patients with stage 2 EC.
Methods
A systematic review was conducted to identify studies comparing survival between RH and SH in International Federation of Gynecology and Obstetrics (FIGO) stage 2 EC patients by searching several databases to July 2018. Hazard ratios (HRs) with 95% confidence intervals (CIs) for overall survival and progression-free survival were pooled using Stata V.12.0.
Results
The study included 10 retrospective cohort studies enrolling 2866 patients. Patients who received RH did not show a significant survival benefit for either overall survival (pooled HR 0.92; 95% CI 0.72–1.16;
P
 = 0.484) or progression-free survival (pooled HR 0.75; 95% CI 0.39–1.42;
P
 = 0.378). The result remained consistent after it was balanced with possible impact from adjuvant radiotherapy (pooled HR 0.85; 95% CI 0.62–1.16;
P
 = 0.300). In earlier studies that staged patients according to FIGO 1988, RH showed a 27% survival benefit (pooled HR 0.73; 95% CI 0.53–1.00;
P
 = 0.050), whereas in newly published studies based on FIGO 2009 staging, it reversely showed increased risk of death (pooled HR 1.24; 95% CI 0.86–1.77;
P
 = 0.245). However, no statistical significance was reached under either staging criterion.
Conclusions
Based on the results of this meta-analysis, RH does not significantly improve survival in stage 2 EC. The choice of RH remains controversial and should be considered carefully in clinical practice. More qualified studies are needed to determine the best treatment strategy for stage 2 EC.