04.01.2021 | Original Article | Ausgabe 2/2021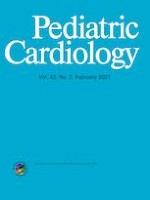 Impact of Reverse Left Ventricular Remodeling on Outcomes of Patients with Anomalous Left Coronary Artery from the Pulmonary Artery after Surgical Correction
Zeitschrift:
Autoren:

Hongju Zhang, Tao Sun, Guowen Liu, Chayakrit Krittanawong, Edward A. El-Am, Roukoz A. Abou Karam, Yan Sun, Jiao Yang, Jingya Li, Xin Zhang, Li Xue, Jun Wang, Yuqiong An, Guiqin Ma, Ning Ma
Wichtige Hinweise
Hongju Zhang, and Tao Sun have contributed equally to this work.
Publisher's Note
Springer Nature remains neutral with regard to jurisdictional claims in published maps and institutional affiliations.
Abstract
The impact of reverse left ventricular remodeling (r-LVR) on clinical outcomes after surgical correction of anomalous left coronary artery from the pulmonary artery (ALCAPA) remains unclear. This study aims to examine the prognostic significance of r-LVR in patients with ALCAPA after surgery. We prospectively identified 61 patients undergoing surgical correction for ALCAPA; 54 patients had adequate echocardiographic image quality with quantitative biplane analysis performed both at baseline and at 30-day postoperative follow-up. Postoperative r-LVR was defined as a reduction of ≥ 10% in left ventricular end-diastolic volume index during follow-up. Cox proportional-hazards regression was used to investigate the independent association of r-LVR and all-cause mortality. Among 54 patients (age: 21.2 ± 7 months; 37% females), r-LVR occurred in 35 patients (64.8%) after surgery. Compared to patients with r-LVR, patients without r-LVR had significantly higher level of N-terminal pro B-type natriuretic peptide (NT-proBNP) [2176 (711, 4219) vs 998 (623, 2145)
P
< 0.001] and lower survival rate (47.3% vs 82.9%, HR = 5.72 [1.96 to 17.20],
P <
0.001) at 1-year follow-up. NT-proBNP (OR = 2.27 [1.67 to 18.3],
P
= 0.02) was an independent predictor of r-LVR in multivariate analysis. Moreover, r-LVR was significantly associated with a lower rate of all-cause mortality (HR = 0.27 [0.08 to 0.98],
P
= 0.03) in multivariate analysis, even after adjustment for clinical and echocardiographic variables. R-LVR occurred in more than half of patients with ALCAPA undergoing surgical correction and it was associated with better clinical outcomes. NT-proBNP is an independent predictor of r-LVR.