08.05.2017 | Preclinical study | Ausgabe 3/2017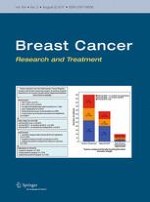 Impact of serum HER2, TIMP-1, and CAIX on outcome for HER2+ metastatic breast cancer patients: CCTG MA.31 (lapatinib vs. trastuzumab)
Zeitschrift:
Autoren:

Diep Ho, Jessica Huang, Judith-Anne W. Chapman, Kim Leitzel, Suhail M. Ali, Lois Shepherd, Wendy R. Parulekar, Catherine E. Ellis, Rocco J. Crescnzo, Liting Zhu, Shakeel Virk, Dora Nomikos, Samuel Aparicio, Karen A. Gelmon, Walter P. Carney, Allan Lipton
Wichtige Hinweise
Electronic supplementary material
The online version of this article (doi:
10.​1007/​s10549-017-4273-x
) contains supplementary material, which is available to authorized users.
Diep Ho and Jessica Huang contributed equally to this work.
Abstract
Background
The lapatinib–taxane combination led to shorter PFS than trastuzumab–taxane in HER2+ metastatic breast cancer. We investigated the prognostic and predictive effects of pretreatment serum HER2, CAIX, and TIMP-1.
Methods
MA.31 accrued 652 patients; 537 (82%) were centrally confirmed HER2+. Biomarkers were categorized for univariate and multivariable predictive investigations with a median cut-point, ULN cut-points (15 ng/ml for HER2; 506 pg/ml for CAIX; 454 pg/ml for TIMP-1), and custom cut-points (30 and 100 ng/ml for HER2). Stratified step-wise forward Cox multivariable analysis examined continuous and categorical effects of biomarkers on PFS in the ITT and central HER2+ populations; central HER2+ biomarker results are shown.
Results
Serum was banked for 472 (72%) of 652 patients. Higher serum HER2 (>median; >15; >30; or >100 ng/ml;
p
= 0.05–0.002); higher CAIX (>median; >506 pg/ml;
p
= 0.02;
p
= 0.001); and higher TIMP-1 (> median; > 454 pg/ml;
p
= 0.001;
p
= 0.02) had shorter univariate PFS. In multivariable analysis, higher continuous TIMP-1 was associated with significantly shorter PFS: HR = 1.001 (95% CI = 1.00–01.002;
p
= 0.004). Continuous serum HER2 and CAIX were not significantly associated with PFS. HER2 of 15 ng/ml or higher had shorter PFS (
p
= 0.02); higher categorical CAIX had shorter PFS (
p
= 0.01–0.08). Interaction terms of HER2, CAIX, and TIMP-1 with treatment were not significant; the predictive test power was low.
Conclusions
Higher levels of serum TIMP-1, CAIX, and HER2 were significant prognostic biomarkers of shorter PFS. We found no significant interaction between serum biomarkers and response to lapatinib versus trastuzumab. Evaluation of TIMP-1 and CAIX-targeted therapy in addition to HER2-targeted therapy appears warranted in patients with elevated serum levels of these biomarkers.