01.12.2016 | Original investigation | Ausgabe 1/2016 Open Access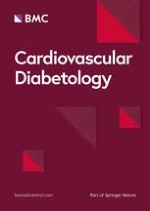 Impact of teneligliptin on oxidative stress and endothelial function in type 2 diabetes patients with chronic kidney disease: a case–control study
Zeitschrift:
Autoren:

Masaaki Sagara, Kunihiro Suzuki, Chie Aoki, Seiichi Tanaka, Isao Taguchi, Teruo Inoue, Yoshimasa Aso
Abstract
Background
The aim of the present study was to elucidate the effect of teneligliptin on oxidative stress and endothelial function in Japanese patients with type 2 diabetes and chronic kidney disease (CKD).
Methods
Forty-five patients with type 2 diabetes and CKD who received sitagliptin for at least 12 months were randomized to either continue sitagliptin (n = 23) or switch to teneligliptin (n = 22) for 24 weeks. The following parameters were evaluated at baseline and after 24 weeks of treatment with continued sitagliptin or teneligliptin: blood pressure, haemoglobin A1c (HbA1c), estimated glomerular filtration rate (eGFR), urinary albumin excretion, endothelial function by reactive hyperaemia index (RHI; EndoPAT® system), reactive oxygen metabolites (ROMs) measured by the d-ROMS test, 8-hydroxy-2′-deoxyguanosine, urinary liver-type fatty acid binding protein (L-FABP), and urinary 8-isoprostane.
Results
The two groups did not significantly differ with regard to age, male-to-female ratio, duration of diabetes, body mass index, HbA1c, eGFR, or urinary albumin excretion levels at baseline. We found no significant differences in changes of HbA1c, eGFR, or urinary albumin excretion levels between the two groups after 24 weeks of treatment. However, treatment with teneligliptin, but not sitagliptin, significantly improved RHI values and was correlated with the percent changes in RHI and d-ROMs.
Conclusions
The present study demonstrated that teneligliptin, can improve endothelial function and reduce renal and vascular oxidative stress in patients with type 2 diabetes and CKD, independently of reducing albuminuria or improving glucose control.
Trial registration
UMIN000017180