06.02.2020 | Review | Ausgabe 4/2020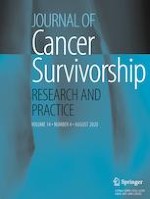 Impact of treatment summaries for cancer survivors: a systematic review
Zeitschrift:
Autoren:

Nadia Corsini, Kim Neylon, Esther Jie Tian, Elminur Mahpirof, Amy McLaughlin, Susan Mcleod, Paul McNamara, Mary Metaxas, Sophia Minos, Rebecca Sharp, Saravana Kumar
Wichtige Hinweise
Electronic supplementary material
Publisher's note
Springer Nature remains neutral with regard to jurisdictional claims in published maps and institutional affiliations.
Abstract
Purpose
As a treatment summary (TS) documents information for follow-up care, it is believed to be an important communication tool for the patient, their GP, and other health professionals. The aim of this systematic review (SR) was to evaluate the impact of receiving a TS for cancer survivors when compared to receiving standard care and to identify knowledge gaps to inform future research.
Methods
A systematic search of electronic databases and grey literature was undertaken from August 2018 to October 2018. Studies were included if participants (cancer survivors) were over 18 years of age and had received a TS, and if outcomes for TS could be separated from other survivorship interventions. The McMaster Critical Appraisal Tool was used to evaluate the methodological quality of the included studies. A narrative synthesis of the study outcomes was then conducted.
Results
Seven studies (one prospective cohort and six cross-sectional studies) met the inclusion criteria. The impact of TS was assessed using widely varied outcomes in these studies. Overall, receipt of a TS was related to greater patient understanding and perception of the quality of care provided. However, caution is required when interpreting these results due to methodological limitations.
Conclusions
This systematic review found that TS may have a positive impact on patient understandings about and perceptions of cancer care. However, more robust research including perspectives of cancer survivors is required.
Implications for Cancer Survivors
TS could play an important role for cancer survivors especially in terms of knowledge of cancer care.