09.11.2020 | Original Research Paper | Ausgabe 1/2021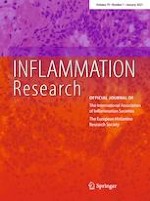 Impaired salivary SIgA antibodies elicit oral dysbiosis and subsequent induction of alveolar bone loss
Zeitschrift:
Autoren:

Emily Chang, Ryoki Kobayashi, Kohtaro Fujihashi, Masamichi Komiya, Tomoko Kurita-Ochiai
Wichtige Hinweise
Responsible Editor: John Di Battista.
Electronic supplementary material
Publisher's Note
Springer Nature remains neutral with regard to jurisdictional claims in published maps and institutional affiliations.
Abstract
Objective
Secreted IgA (SIgA) plays a central role in preventing bacterial and viral infections on mucosal surfaces by neutralizing toxins and viruses and inhibiting bacterial attachment to epithelial cells. However, the role of salivary SIgA antibodies (Abs) in regulating oral flora is still unknown. This study aimed to evaluate the association among oral bacteria, their metabolites and periodontitis in IgA-deficient (IgA KO) and wild-type (WT) control mice.
Methods
Microcomputed tomography (micro-CT) analysis was used to assess alveolar bone resorption as a development of periodontitis. The bacterial profiles of saliva were determined using the next-generation sequencing assays. Furthermore, the metabolites in saliva were measured and compared using CE-TOFMS.
Results
Salivary microbiota of IgA KO mice revealed a remarkably decreased frequency of
Streptococcus
, and increased percentages of
Aggregatibacer, Actinobacillus
, and
Prevotella
at the genus level when compared with those of WT. Compared to WT control mice of the same age, the level of alveolar bone loss was significantly increased in IgA KO mice, and infiltration of osteoclasts was found on the surface of the alveolar bone. The metabolome profile indicated that the metabolites of IgA KO mice had greater variability in carbon metabolic, urea cycle, and lipid pathways than WT mice.
Conclusion
These results suggest that salivary SIgA plays an important role in regulating and maintaining normal oral microflora to prevent the development of periodontal disease.