01.12.2017 | Research article | Ausgabe 1/2017 Open Access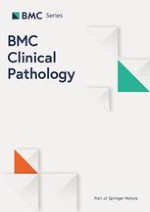 Impending relapse of myelodysplastic syndrome after allogeneic transplant is difficult to diagnose and requires a multi-modal approach
Zeitschrift:
Autoren:

Elizabeth L. Courville, Megan Griffith, Celalettin Ustun, Sophia Yohe, Erica Warlick
Abstract
Background
The only potentially curative therapy for myelodysplastic syndrome is allogeneic hematopoietic cell transplant; unfortunately, there is a high relapse rate. The objective of this study was to perform a detailed clinicopathologic study of patients with relapsed myeloid neoplasm following allogeneic hematopoietic cell transplant for myelodysplastic syndrome.
Methods
Pre-transplant, post-transplant, and relapse bone marrow and peripheral blood morphologic features (including dysplasia) were retrospectively evaluated by study authors. Clinical features and results of cytogenetic analysis and engraftment/chimerism studies were obtained from the medical record.
Results
Our study describes 21 patients with a median time to relapse of 6 months (range 2–82). Ten of the patients relapsed with higher grade disease, including six with overt acute myeloid leukemia. Pre-transplant megakaryocyte dysplasia was associated with dysplastic megakaryocytes in the relapse specimen; however, neither erythroid dysplasia nor granulocytic dysplasia were associated with their counterpart in the relapse specimen. Relapse specimens had a lower marrow cellularity and higher blast percentage than pre-transplant disease. Cytogenetic comparisons before and after transplant showed variety, including clonal evolution (22%), the same abnormal clone (33%), or a different abnormal clone (22%).
Conclusions
Our detailed review of post-transplant marrow biopsies prior to relapse highlights the difficulty in diagnosing relapse and particularly impending relapse.