01.12.2018 | Research | Ausgabe 1/2018 Open Access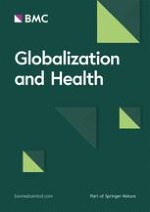 Implementation lessons for school food policies and marketing restrictions in the Philippines: a qualitative policy analysis
Zeitschrift:
Autoren:

Erica Reeve, Anne Marie Thow, Colin Bell, Katrin Engelhardt, Ella Cecilia Gamolo-Naliponguit, John Juliard Go, Gary Sacks
Background
Policy setting: the Philippines.
There are over 46,000 schools in the Philippines, providing kindergarten to Grade 12 education. In many densely-populated areas classes are delivered across two sessions per day, with sessions starting from 6 am and closing up to 6 pm. Education as a sector is centralised and organised by central, regional and divisional policy layers, with health and nutrition officer functions framed as a 'learner support' services. Department of Education Orders "Dep Ed Orders" are the overarching policy framework governing the rights, obligations and operations of the school setting, including the provision, marketing and sale of food.
This study aimed to understand barriers and enablers to effective school food policy development and implementation in the Philippines. It also sought to identify opportunities to develop more comprehensive policy frameworks in the area.
Methods
We used qualitative policy analysis research methods to interview health and education officials in the Philippines and review relevant documentation related to barriers and enablers to realising policy outcomes [
34
,
35
]. We used policy theory to inform all aspects of the study, including the development of the interview schedule and thematic analysis of the data collected. This encouraged inquiry beyond the level of description to examine the complex set of circumstances in which the policies were being realised [
23
]. Walt and Gilson's 'Health Policy Analysis Triangle' was selected as the primary theoretical lens, as it was deemed to incorporate the key aspects that were likely to be relevant to this analysis, and has previously been used in similar contexts [
22
] [
36
]. The policy analysis triangle prompted investigation into multiple aspects of the policy process, recognising that the behaviour of actors, the process of policy-making and implementation, as well as the context in which policies are developed and disseminated all influence policy content and outcomes [
34
,
37
].
Study design and participants
ER conducted 21 semi-structured interviews with key informants across the Greater Manila Area in May 2016. The National Nutrition Centre selected the initial sample of informants, based on participants' knowledge of the school food policy-making process and/or their role in school food policy implementation. Representatives from the National Nutrition Centre requested participation from interviewees with letters and follow-up phone calls. Other relevant participants were identified through snowball sampling. Eighteen interviews were conducted in English. Three food providers were unable to communicate in English, and so a translator was used in this case.
The participant sample included national-level policymakers from health, education and agriculture (9), municipality-level health and education officers (3), school principals (4), food providers (3), a senior nutrition researcher and a representative of the food regulatory authority. Interviews were recorded and handwritten notes were taken when interviewees preferred that the interview was not recorded.
Based on the components of the Health Policy analysis triangle, semi-structured interview questions centred on:
the content of policy initiatives (content);

governance of the school and food environments (context);

implementation, communication, monitoring and enforcement mechanisms; and capacity support, tools and resources (process);

stakeholder knowledge of key policies, and their views on the effectiveness of current school food regulations (outcomes); and

the perspectives, roles and influence of actors on implementation and outcomes (actors).
The content of the semi-structured interview schedule was adapted to the role and expertise of the interviewees, and also updated iteratively to pursue relevant information identified through the interviews [
38
].
Document and webpage review
To inform the analysis of policy context and supplement the interview data, a literature search was conducted to identify documents describing and regulating school food environments in the Philippines. We reviewed policy documents provided by informants, and performed an electronic search through 20 years of Philippines Department of Education policy 'Orders' to search for directives relating to food and nutrition.
We also conducted a content analysis of global food company websites to identify activities being delivered by food companies in the education setting of the Philippines. The websites in this content analysis were selected as those companies listed on an Adopt-a-School Program (Stanfilco, Coca-Cola Far East Limited, Coca-Cola Foundation Inc., Pilmico Foods, Uniliver), and nine companies listed as signatories on the Philippines Pledge (including Unilever, Nestle, Coca Cola, Mars and Pepsico) [
33
].
In May 2017, ER visited websites for each company to view evidence of philanthropic work in schools. Where images depicted visible branding in schools (confirmed through accompanying text), these were captured using a software add-on called FireShot Capture [
39
].
Analysis
Data analysis used the key components of the health policy analysis triangle as a foundation, supplemented by concepts drawn from other policy theories including the advocacy coalition framework [
40
,
41
], and the multiple streams theory [
42
]. Analysis focussed on: strengths and limitations of policy content, roles and behaviours of actors, the political and socio-environmental context, opportunities to improve policy coherence, and characteristics of implementation. We also examined policy outcomes based on stakeholder interpretation and perspectives on the policy. 'Policy outcomes' were added as a construct to our analytical framework because outcomes are a proxy indicator of successful implementation, an approach applied by other researchers undertaking similar case study research [
36
].
The structure and content of the current food policy mechanisms were analysed with reference to the Philippines Food-Based Dietary Guidelines and the Food Pyramid for Filipino children and teens, and WHO's Set of Recommendations on marketing food and non-alcoholic beverages to children [
43
].
We structured the results according to the key concepts in the analytical framework (policy context, policy contents, policy process and policy outcomes), whilst drawing out barriers and enablers of policy implementation. We presented the discussion according to the key themes that emerged from the study, with a focus on enhancing generalizability of the findings to other settings and promoting policy learning [
44
,
45
].
Ethical approval
This study received ethical approval from both the Human Ethics Advisory Group at Deakin's Faculty of Health (approval HEAG-H47/2016) and the Philippines National Ethics Committee with the Philippines Council for Health Research and Development (NEC Code 2016–002-Reeve-Healthy Food and Beverages).
Results
Discussion
This study found that, despite a relatively strong policy mechanism for healthy school food provision and marketing (that includes a ban on the provision of sugar-sweetened drinks in schools, amongst other restrictions), the lack of human and financial resources for implementation, monitoring and policy enforcement restricted its impact. The study also found that clearer policy wording would likely improve both interpretation of the policy while better enabling accountability. Additionally, external actors, particularly from large food companies, were found to be compromising policy processes and agenda-setting. However, we did find a motivated group of policy-entrepreneurs advocating food policies to protect children.
This research identified several opportunities for strengthening implementation of healthy school food provision and marketing policies in the Philippines, outlined below. By considering the findings of this study through the lens of theories of policy learning [
56
], our discussion of findings focusses on key, globally-relevant dimensions of school food policy, which are likely to be relevant for informing the development of the design, governance and implementation of policies in other contexts. We have identified below key opportunities to strengthen policy design and implementation, including: specific and effective policy design; early consideration of implementation; identification of policy synergies; and management of conflicts of interest.
Strong, unambiguous language
The healthy school food provision policies analysed here enabled a broad interpretation of their contents, demonstrating the need for countries to address ambiguity in policy language and ensure they unequivocally promote healthier food and beverage options. The success of school food policies may, at least in part, be predicated on the way in which 'healthy' foods are identified, categorised and subsequently managed, because differences can result in significant inconsistencies in interpretation, 'strictness' [
57
–
60
], and subsequent accountability of a policy. Internationally, there are a range of systems being employed to classify the provision of food and beverages in the school setting [
4
,
61
–
65
]. Policy makers need to consider the most appropriate system for their context, depending on the policy goals and implementation considerations.
In relation to the industry-led marketing controls, we found that the Philippines Pledge was a weak set of standards which lacked in transparency and accountability. This is consistent with voluntary food industry initiatives adopted elsewhere [
8
,
66
–
68
], with evidence that they have not been effective in reducing children's exposure to marketing in the Philippines [
69
], Australia [
70
], Canada [
71
,
72
] and Spain [
73
].
Emphasising implementation and accountability
The absence of goals, targets and implementation plans is a common limitation of nutrition policies globally [
14
], and poor implementation planning has been shown to negatively affect school policy uptake in other countries [
22
,
74
]. The adoption of policy mechanisms being used to promote healthy dietary practices in the school setting would have been strengthened by more robust implementation planning processes, with a communication plan, clear delineation of responsibilities for monitoring and enforcement, tools and resources to support implementation, and dedicated funding for capacity development. Adherence to school food policies is improved when investments have been made in the knowledge and capacities of school food workers [
22
,
74
,
75
] and through the provision of appropriate information and implementation support [
75
,
76
]. Identification and investment in the human and financial resources required to fully imbed and enforce the policy is thus clearly an important factor [
15
,
77
].
The food environment external to the school provided easy access to non-policy compliant foods. Local level factors have similarly been found to compromise school nutrition policy implementation in other settings, including the proximity of stores selling unhealthy alternatives and the prohibitive costs associated with policy-compliant foods [
78
]. Ongoing communication and consultation between policymakers and stakeholders has been effective in managing these (and other) factors, as well as enhancing the sustained compliance to school nutrition policies [
78
–
80
].
Weak accountability mechanisms further limited the success of policies examined here. Routine monitoring and accountability mechanisms are reportedly critical to the successful adoption and maintenance of school food policies [
15
,
22
,
77
,
81
]. In lower-resource settings, there is generally reduced capacity for the implementation, enforcement and regulation of health policies [
34
], necessitating a greater degree of innovation in order to overcome such limitations. In Brazil, a number of collaborating universities were engaged to support the implementation and monitoring of the Brazilian School Feeding Program [
82
]. In other countries, the priority afforded to food policies in the school setting has been elevated through school recognition and reward systems, the introduction of coveted capacity building opportunities [
83
], and through the integration of food policy indicators into school performance management processes [
84
]. In the context of a public service that has multiple competing demands and a relatively low-level of resources, the Philippines could explore opportunities to synergise food policy enforcement through cross-sectoral partnerships, for instance by pushing for engagement on this issue by the Philippines Public-Private Partnerships Centre.
Identifying and managing conflicts of interest in school food policymaking
The Philippines Government is highly reliant on private partnerships to address resource challenges in the education sector [
85
]. The private sector is clearly contributing to improving quality, equity and opportunities in education in the Philippines. However, we found that food companies were using their engagement with schools to promote their brands, for example by delivering feeding programs or giving 'nutrition talks'. Although the Philippines Department of Health is not allowed to receive financial or material inducements from manufacturers of breastmilk substitutes [
86
], there are not equivalent restrictions in the Education sector. For example, Nestle provides support to the education sector through a Milo sports program [
54
]. This is consistent with previous research in finding that voluntary and industry-led initiatives may not be effective in protecting children from marketing by food and beverage companies [
67
,
69
].
Resources provided through industry partnership approaches such as the Adopt-a-School program create a potential conflict for policymakers and school workers seeking to implement healthy school food provision and marketing policies. For example, if the Department of Education was to enforce marketing restrictions in schools, it may be at the expense of infrastructure and other resources being provided to them by food companies. According to WHO, food company sponsorship and participation in schools presents a high risk for conflict of interest [
11
,
67
]. In a life-course approach to nutrition, good nutrition during school-age would be considered as high a priority as it is during pregnancy, infancy and early childhood, and have the same policy protections afforded to it [
87
].
Low resource settings are likely more vulnerable to this conflict because there is an increased reliance on private finance, and the benefit from engagement is comparably high [
67
]. Strategies to reduce conflicts of interests in school food policy include improved identification of potential conflicts and then introducing partnership eligibility criteria [
8
,
67
] and ethical conduct codes [
8
], reinforcing accountability mechanisms [
8
,
67
] and adopting complimentary statutory recommendations [
67
]. If food companies cannot comply with marketing bans then divestment from food industry partnerships may be required.
Policy learning within the Department of Education
After this research was undertaken in 2016, the Department of Education in the Philippines initiated a rapid process to develop and adopt a new Dep Ed Order to surpass Order Number 8. This process was led by officials who were interviewed as part of this study and actively participated in regional WHO-led meetings advocating similar policies, indicating that policy officials were engaging in policy-oriented learning [
88
]. The newer policy, Order no 13 (2017), contains a more extensive policy content, including a food classification system that has been aligned to national food guidelines ('Pinggang Pinoy') [
89
]. It also restricts marketing of unhealthy food and beverages in and around schools (specifying a 100 m radius), and provides a 3-month lead-in time for schools to remove food branding on equipment and infrastructure. The newer Order delineates some responsibilities for promotion, capacity building and monitoring duties across different governance levels, and is being supported through extensive consultations, training opportunities and with tools. This policy learning took place within a relatively short period of time, providing an example of how policy coherence can occur through the 'coupling' of problems with solutions by policy entrepreneurs in the right political climate [
40
]. The recent passing of House Bill 3365 imposing a tax on sugary drinks after 18 years of advocacy is a further example of persistence in policy development, and the importance of capitalising on appropriate policy windows [
90
].
An opportunity for stronger policy that still remains, is the adoption of regulations to comprehensively protect children from marketing of unhealthy food and beverages, which is a priority item on the legislative agenda of the country's multi sectorial nutrition agency, the National Nutrition Council. This study provides evidence that the influence of the food industry presents a risk to the progress of this agenda in the Philippines, and contributes to the lack of policy action in this area. The co-opting of political leaders by food and tobacco companies, as well as other corporate political activity, has the potential to undermine health policy making [
66
]. Policy makers will need to be prepared with strong justifications to underpin policies if they are to counter the tactics of the food industry. Conditions for this will be more favourable if policy makers simultaneously engage the support from policy entrepreneurs, civil society and other institutions [
88
,
91
].
Strengths and limitations of the study
The key strength of this research was that it directly involved policymakers from multiple levels of governance in the Philippines, and drew on the in-depth insights and perspectives they offered. Due to the extensive and well-organised policy material of the Department of Education, we were able to triangulate key information about sector partnerships, operations and policy processes against government policy materials. The policy analysis frameworks used have delivered an enriched understanding of the key influences on policy effectiveness, based on established policy science theory.
Nevertheless, the study had several limitations. Only a small proportion of policy makers involved in this policy landscape were included in the study. Moreover, while National, Division and Municipal level informants were interviewed, we were not able to interview any Provincial-level policymakers. Thus, the insights expressed by participants may not reflect the full range of views from relevant decision-makers. However, where possible, information provided by informants was cross-checked against the extensive and well-organised policy archives maintained by the Department of Education.
Without standardised and collated monitoring systems there was no data available on school food provision. Therefore, assertions on outcomes were based on qualitative contributions from the small range of interview participants. This was supplemented by the review of food company websites, but this was limited in that it could not date the activity depicted in the images found.
Conclusions
This study found that in the Philippines, the adoption of tight regulations to protect children from the provision and marketing of unhealthy foods and beverages in the school setting was limited by the lack of resources and capacities for implementation planning, support and enforcement, a vague delineation of actor responsibilities, and potential conflicts of interest with food companies. This was compounded by unclear policy parameters, and ambiguous categorisation of foods to be restricted or promoted. These findings indicate that countries should facilitate implementation planning processes during policy development to establish goals, targets and activities, and measures for accountability and resource allocation. They should also carefully consider how food guidelines and policies will be interpreted, promoted and monitored. Subsequent efforts by policy makers in the Philippines after the study was conducted, have addressed this somewhat through clearer delineation of duties and responsibilities across government, although the availability of resources may yet constrain effective policy implementation.
Countries and organisations disseminating their lessons on policy making through global networks promote transnational policy learning [
56
]. Specific findings from this research suggest that the establishment of an agenda to fully protect children from exposure to unhealthy food and beverages in the school setting is likely to require greater resources, identification and management of conflicts of interest, strong co-ordination by a coalition of policy entrepreneurs, civil society and other institutions, and processes to ensure policy coherence across government institutions. Additionally, the standards provided through international institutions such as WHO can promote a convergence of policy objectives, principals and norms [
56
].
Acknowledgements
The support of the World Health Organization and the National Nutrition Council of the Philippines is gratefully acknowledged. We would like to express our sincere appreciation to the interviewees for their time and expertise.
Funding
ER holds a Deakin University Postgraduate Research Scholarship. GS and CB are researchers within a NHMRC Centre for Research Excellence in Obesity Policy and Food Systems (APP1041020). GS is the recipient of an Australian Research Council Discovery Early Career Researcher Award (DE160100307).
Availability of data and materials
Data supporting the findings of this study are available on request from the corresponding author [ER]. The data are not publicly available due to them containing information that could compromise research participant privacy/consent.
Ethics approval and consent to participate
This study received ethical approval from both the Human Ethics Advisory Group at Deakin's Faculty of Health (approval HEAG-H47/2016) and the Philippines National Ethics Committee with the Philippines Council for Health Research and Development (NEC Code 2016–002-Reeve-Healthy Food and Beverages). All participants in this study provided signed consent. No personal information or personal identifiers are contained within this study.
Consent for publication
All individuals participating were provided with an information sheet outlining publication plans.
Competing interests
The authors declare that they have no competing interests.
Publisher's Note
Springer Nature remains neutral with regard to jurisdictional claims in published maps and institutional affiliations.
Open Access
This article is distributed under the terms of the Creative Commons Attribution 4.0 International License (
http://​creativecommons.​org/​licenses/​by/​4.​0/​
), which permits unrestricted use, distribution, and reproduction in any medium, provided you give appropriate credit to the original author(s) and the source, provide a link to the Creative Commons license, and indicate if changes were made. The Creative Commons Public Domain Dedication waiver (
http://​creativecommons.​org/​publicdomain/​zero/​1.​0/​
) applies to the data made available in this article, unless otherwise stated.