01.12.2017 | Research Article | Ausgabe 6/2017 Open Access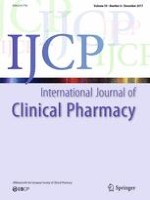 Implementation of an IT-guided checklist to improve the quality of medication history records at hospital admission
Zeitschrift:
Autoren:

Tanja Huber, Franziska Brinkmann, Silke Lim, Christoph Schröder, Daniel Johannes Stekhoven, Walter Richard Marti, Richard Robert Egger
Impact on practice
Systematic acquisition of medication history at hospital admission potentially improves medication safety.

IT-guided checklists have a great potential for an accurate medication history at the time of hospital admission.
Introduction
Aim of the study
The aim of the study was to reduce the proportion of patients with at least one medication discrepancy in the medication history at hospital admission by implementing an in-house developed electronic checklist.
Ethics approval
The study was approved by the National Swiss Ethics Committee on research involving humans (#2016-00939).
Method
Study design
The prospective study was conducted in a ward with 26 beds focusing on vascular and visceral surgery at the Kantonsspital Aarau, a Swiss cantonal hospital. To support physicians in obtaining accurate and complete medication histories of patients at admission, a multidisciplinary team of pharmacists, physicians and nurses developed a checklist in the electronic prescribing system (EPS) to provide a framework and guide during the acquisition of the necessary information (Fig.
1
).
×
Admitted patients were enrolled during the two phases of the study. Phase 1, before the introduction of the checklist, lasted from November 2013 to January 2014. The effect of the checklist on medication history accuracy was examined during phase 2, which lasted from February 2015 to May 2015. Before implementing the change to using the checklist, all involved surgeons had to attend a mandatory seminar on how to use the new tool.
During both phases, the medication history for each patient was acquired by a physician and compared to that prepared by the same pharmacist (gold-standard). All identified medicines were documented according to the ATC code system. Each divergence was considered a medication discrepancy and categorized in six groups:
Omission of a medication.

Commission of a medication (additional drug not used before admission).

Incorrect medication.

Incorrect strength.

Incorrect dosage form.

Incorrect dose change.
The medication management of the patients prior to admission was categorized in five groups:
A = at home without care service support.

B1 = at home with nursing support.

B2 = at home with family member support.

B3 = at home with pharmacist support.

I = at nursing home.
Patient admission was subdivided into three groups:
E = elective admission.

N = admission through the emergency department.

SDS = admission for same day surgery.
Study population
All admitted patients (≥ 16 years), who were transferred to the surgical ward, were included.
Patients, who were discharged from hospital within 48 h or had been moved to another ward, before the pharmacist could obtain the medication history, were all excluded from the study. Likewise, patients, who were admitted for same day surgery in phase 2 or with communication problems and without a family member to be interviewed, were not included in the study.
Data collection
To collect the medication data of a patient, the pharmacist used a standard structured questionnaire. When necessary, information was assembled from the general practitioner, the patient's pharmacy, nursing home or a family member. To ensure that the physicians had adequate time to collect the medication history, the two medication lists were compared two working days after the patient's arrival at the ward, and all medication discrepancies were documented.
Statistics
Before starting to collect data, a power analysis was conducted using the software R-2.15.2 (2012-10-26, Trick or Treat). Using a Poisson regression (α = 0.05 and β = 0.05) and assuming the intervention would reduce the proportion of patients with at least one medication discrepancy by 50%, a minimum enrollment of 110 patients per phase was needed. Microsoft Excel 2010 and R-3.1.3 (2015-03-09, Smooth Sidewalk) were used for the descriptive and statistical analysis. Significance level for adjusted
p
values was set to 0.05. In order to check whether the patient group in phase 1 differed from phase 2 univariate tests were performed. Exact Fisher's tests were used for nominal variables, while Welch t-tests were performed for continuous variables. Potential differences between medication discrepancies in the two phases were assessed using an Exact Fisher's test.
P
values were corrected for multiple testing using the method of Benjamini and Hochberg. Exact Fisher's tests were further used to calculate the odds ratios (OR) for using the checklist and obtaining a systematic medication history. Influence of other factors was analyzed using logistic regression. The suitability of the model was assed using graphical diagnostics of the fit and distributional assumptions.
Results
228 of 415 patients admitted to the ward during the two phases were included in this study. 113 were included in phase 1 before intervention and 115 in phase 2 after intervention. 187 patients were excluded for the following reasons: 125 were discharged within less than 48 h, 39 were admitted for same day surgery during phase 2, 15 moved to another ward before a pharmaceutical interview could be conducted, 7 due to communication issues, and 1 for refusing to be interviewed.
The most common discrepancy in both phases was omission of a medication. In phase 1, the most discrepancies occurred in the group of analgesics (ATC code N02) at 17.2% leading ophthalmologicals (S01) at 7.6% and mineral supplements (A12) at 7.1%. After the implementation of the IT-guided checklist, the medication discrepancies for analgesics were reduced from 34 to 4, for ophthalmologicals from 15 to 8 and for mineral supplements from 14 to 1.
Age was compared to the type of care service to see if there is an association between these two factors. The combination showed a slight trend but no statistical significance.
Discussion
The study has several limitations. It was conducted with patients of only one surgical ward and in only one hospital, where admission process may be different from other hospitals. A further limitation is that the obtained data from the same day surgery patients were not excluded from phase 1. At the end of phase 1 it was not clear that the anesthetists would not be utilizing the checklist in phase 2. By retrospectively excluding the same day surgery patients form phase 1, the required sample size of 110 patients would not have been met.
As mentioned earlier, the discrepancies were not classified based on their potential to cause harm. Further research is needed in order to determine the impact on medication safety by the implemented IT-guided checklist.
Our regression model was defined as the discrepancies divided by the number of used medications. We would like to point out that the number of discrepancies could exceed the number of medications per patient, since a single medication can provoke multiple discrepancies like incorrect strength and incorrect dose change. There was one case, where more discrepancies than regularly used medications were made. In this case, we set the number of correct medication to 0. It can also not be ruled out that some medication discrepancies remained undetected, since the same pharmacist recorded the medication history and identified the discrepancies. However, these limitations appear to only marginally affect the apparent result of significantly reducing medication discrepancies by using a checklist at admission.
Conclusions
Discrepancies in the medication history were found to be significantly reduced by providing a standardized, IT-guided checklist to the physicians. Since the lack of a complete medication history leaves patients at risk for medication errors, the intervention applied in this study will likely enhance the medication safety and reduce complications due to drug-related problems.
Acknowledgements
The authors thank the participating physicians and nurses for their active effort. The authors also thank Adin Ross-Gillespie for his input on the logistic regression model.
Funding
No funding received.
Conflicts of interest
The authors declare that they have no conflicts of interest.
Open Access
This article is distributed under the terms of the Creative Commons Attribution 4.0 International License (
http://​creativecommons.​org/​licenses/​by/​4.​0/​
), which permits unrestricted use, distribution, and reproduction in any medium, provided you give appropriate credit to the original author(s) and the source, provide a link to the Creative Commons license, and indicate if changes were made.